Posts Tagged 'postnatal depression'
May 7th, 2016 by motheradmin
by Mothers Helpers Founder Kristina Paterson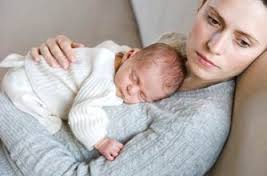 It took me 18 months to go and get some help for the way that I was feeling.  9 of those months I was anxious throughout my pregnancy but the midwife didn't pick up on it.  In the first week after my baby was born, I had a new midwife, and she said to me that if I was still crying by day 7 (hours of crying every day), then I'd have to go and see the doctor as I may have postnatal depression.  So I forced myself to stop crying.  I didn't want to have postnatal depression.  And I didn't want to have postnatal depression for the next 9 months that I avoided seeking help.  I did go and see a counsellor, but it had little impact on me.  I knew that if I went to the doctor, he would diagnose me and offer me medication that I didn't want to take.  This inability to be rational and problem-solve clearly as well as denial of the full extent of the problem is very common for mothers who experience antenatal or postnatal depression.  It's even harder if this is your first baby and you have nothing to compare your experience to.  I left it till things were really, really bad before I got help.  By that time my energy was so low that I could barely manage to get myself off the couch, I had to summon all of it just to attend to my baby's needs, the entire 12 hours or more of caring for my baby on my own while my husband was at work overwhelmed me.
When I finally went to the GP, I of course was offered medication, which I accepted.  And I felt better within a few weeks.  I didn't know at the time that medication was not a miracle cure – that within 12 months, the medication would stop working simply because I had not made any changes to my life.  I didn't know that recovery from depression required an holistic approach.  I didn't know because nobody told me and there was nothing out there that helped me to understand recovery from depression more fully or to help me make those changes.
The consequences of depression that was not diagnosed and not treated for such a long time was devastating for me.  I developed chronic (life-long) depression.  Most of the time I am well, but it means that I have to take medication and commit to holistically caring for myself in order that I stay well.  Antenatal and Postnatal Depression was definitely a contributing cause of my marriage breaking down and subsequent separation.  Tragically, it is likely to be a contributing factor of my 6 year old son's development of an anxiety disorder – the impact of which we are still wrestling with on a daily basis.  I can almost bear my own suffering in this whole story, but watching my son suffer is really unbearable.  Every family has their challenges, but the challenges I have faced are preventable, and I want to prevent this suffering from happening to you and your family.
I don't write this to frighten you.  The last thing I want to do is cause you more anxiety.  I write this because I want so much for you to get help for your depression and anxiety.  It is crucial not only to your own wellbeing, but to the wellbeing of your family.  Please go to the GP.  Please consider treatment.  Please find out more about how you can recover holistically from antenatal/postnatal depression and anxiety.  Mothers Helpers runs courses throughout Auckland and an online course that is available to anyone in the country.  These courses have proven to help the majority of mothers to recover from PND, and all of them their condition has improved.
---
November 9th, 2014 by motheradmin
Dear Mums,
It is the last day of Postnatal Depression Awareness week for 2014.  Usually, I am out there planning an event, fundraising for the cause, creating awareness.  This year, I am taking care of my own health after a series of stressful events that has prompted me with the little reminder "Kristina, take care of yourself!"  You see, like you, I suffer with depression.  Sadly, Postnatal Depression was my second major depressive episode and for many reasons, I never fully recovered.  Like (my hero) John Kirwan says, these days my goal is not recovery but wellness and there are times I need to take special care of myself to achieve that.
Mothers Helpers has been going for 4 years now (officially) and in that time we have seen many challenges.  Those challenges have not been just the usual challenges that charities face – largely, funds restricting their ability to offer the service they're wanting to deliver or a lack of volunteers helping with that service.  In addition to those, I have had well-meaning people tell me why we could not possibly achieve what we are wanting to achieve – why mothers would not come to our groups, why we can't do what we want to do (help mums at-risk or suffering with postnatal depression) without adequate funding.  I've been told that our services are not needed because there is not as much of a gap there as we know there is.  I've had organizations refuse to refer mothers to our service because they believe there is no gap – yet, in the past, we have at times, struggled with the sheer number of mothers who have asked us for help but thankfully, now we are in a position to meet that need consistently.  I have had people say to me that they don't know why (with all these challenges, and sometimes lack of help/support of what we're trying to achieve) I don't walk away from it all, give up on what has been a hard road trying to provide a service that genuinely helps mothers despite our lack of funds and staff/volunteers or other supports or resources to deliver that service.
Most certainly, these challenges have discouraged me considerably at times, had me in tears on numerous occasions and admittedly, there have been moments I've seriously thought about throwing in the towel.  Certainly, there are people in our organization that are so instrumental to our work that it could not happen without them.  Board members Becs Ballard and Ildiko Baigent have been ongoing champions and supporters of the cause and of me personally and I'm grateful to them for standing by me, my Group Facilitators and student counsellors Tara English and Noor Hassan this past year working with groups or one-on-one with our mums, volunteers such as Denisa and (more recently) Kiri Windross helping with administration – and the various volunteers we've had over the years helping with events or helping at market stalls promoting our work.  I'm grateful to those who have sponsored a mother who has not been able to afford the cost of attending our recovery groups.  I'm grateful to those who have sponsored us by donating printing or counselling rooms or heavily discounting products and services that we need to continue our work.  I'm grateful to the organizations such as Maternal Mental Health, Plunket, other similar agencies, the General Practitioners and Midwives that refer mothers to our service because they believe in the help and support we are offering mothers.  The 50 or so "Friends of Mothers Helpers" that are behind what we do.  In addition to the continuation of the organization itself, these people have been an enormous encouragement to me that yes, there are people who believe in what we are doing and stand behind us and I am very very grateful to them for that.  And despite all of the challenges Mothers Helpers has experienced, there are two significant reasons I can't and won't walk away or give up on this despite any challenge that comes my way.  The first is because I know that there is a gap that exists for mothers with mild-moderate postnatal depression in terms of holistic help and support to aide recovery.  The second is, quite simply, you.
You are the reason why I do what I do even when I sometimes struggle with my own health/depression and have to take a small step back from it all.  You're the reason why I persist in the face of any challenge and won't give up.  When I walk into an event with a bunch of other organizations all vying for the same pot of funding and I feel completely alone because they feel competitive and that I am a threat to their charity's survival (when all I want to do is have a mutually supportive relationship), I remain in that event for you.  When I am the only voice championing this cause to doctors, to midwives, to hospital staff, to birth educators, to agencies, to the Government or the wider community – I am doing it because of you.
You are my motivation because I see and hear your stories of pain and struggle – fighting to be a good mother to the children that you love and wanting to do your very best, but held back by the ongoing battle with depression.  And I have been in that battle – I know what it's like – I know the courage it takes for you to face each and every day with your own challenges.  I know the battle that is in your mind, the constant negative thoughts that berate you while you're trying to do the best you can, the emotions that overwhelm you, the energy that you lack and the desire to stay in bed yet forcing yourself forward into the day for the sake of your kids.  I know the guilt that plagues you, the feelings of despair, anger, resentment and the longing to be free from this terrible illness that robs you from all of the joyful experiences you wanted in your pregnancy, in childbirth, in those early days of mothering.  You are my heroes – the sheer strength and determination you show in the face of your day-to-day challenges motivates me to overcome the challenges I face in providing this service for you.  I want to fight to provide the kind of support that can prevent Postnatal Depression for mothers who are at-risk of it, and I know that with the right kind of support, that is possible.  I want to fight to provide an holistic service that helps mothers to recover from Postnatal Depression so that you can be well and free from the battle that now plagues you so that you can fully enjoy your experience of motherhood, and so that  together we can prevent the consequences of Postnatal Depression in your life such as poor attachment between mother and child, depression becoming severe, hospitalization, breakdown in relationships/marriage and yes, even suicide…  My reward is witnessing your recovery when I see mothers soaking up the information we're offering and motivated with that newfound information to make changes in their life bit by bit.  The reward is seeing you well and enjoying life again.
To all mothers with Postnatal Depression, I applaud you.  I applaud your strength, your courage in this battle.  I have deep admiration for you.  It is not your fault that this is your experience and yet too often you face these challenges without the understanding or support from those around you  – sometimes, you even experience stigma and judgment or hide your private battle in fear that you will.  I want to tell you that you are not alone.  You are my friends and my sisters in this battle.  Mothers Helpers is here because of you – because we believe you can win this battle and we'd like to help you to do it – like to support you on that journey, because we understand what that battle is like and know how hard it is.  I want you to have hope – I want you to know that you don't have to do this alone, and I want you to know that with help, you can recover – you can be well again.
Kristina Paterson
Founder of Mothers Helpers
How Can You Help to Support this Cause?
Tell others about Mothers Helpers – share this and other articles on your social network pages
If you are a GP, midwife, agency, friend, family member – refer mothers at-risk or suffering with postnatal depression  to our service so we can offer help to them
Volunteer – we have plenty of opportunities for people to help with whatever time they have available
If you would like to gift a mother with Postnatal Depression a beautiful "candle of hope" you can do that by donating $6 to us on "Give a Little"
---
November 27th, 2012 by motheradmin
November 20th, 2012 by motheradmin
Postnatal Depression week is 17-25 November.  Our theme is "Breaking the Silence"…  In the spirit of that theme, Mothers Helpers will be posting on our blog stories of mums who have battled postnatal depression.
This is Ruth Sell's story…
Before having kids I really believed I could handle anything. I was a successful Advertising executive, I had travelled the world on my own and had come through many personal challenges, I had never suffered serious depression. Not much was said about PND prior to the birth, and what I did hear about I paid little attention to. If anyone had asked more about my history of anxiety or how well I deal with sleep deprivation it might have hit home a little more, but still I wouldn't have expected it.
My pregnancy was wonderful and the birth was easy by my midwife's standards (though it was hands down the most painful and gruelling experience of my life). My son fed well and was healthy. I had a supportive husband and no financial worries. Our only vulnerability was that we were on the other side of the world from all our family and being new to Auckland we had very few friends.
The PND started pretty much from the birth of my son but I didn't really realise it was unusual until he was 3 months old. I developed terrible insomnia and anxiety, which led me to get depressed. I went to a useless GP who didn't even look me in the eye as she prescribed me medication that didn't work.
In desperation I flew back to the UK and stayed with my Mum for 6 weeks. When I got back to Auckland things were at breaking point, I never thought I would come so close to ending my life, it was a terrible terrible time. Thankfully I discovered an amazing GP who told me "you know it's not normal to feel this way. You're missing out on your son and you deserve to enjoy life and being a mum.' She gave me the right medication and I started going to a support group and a therapist. I also found the most amazing acupuncturist.
I learnt that PND really is an illness. It's not all in your head, much as it feels like it. Your body becomes so depleted from the physical trauma of birth, and the physical and mental challenge of being a mum that it can't perform the functions that help you sleep and feel happy and have energy etc. Add to this the reality of all the challenges and emotions that come with being a Mum, plus the crazy hormonal changes and it is a 'perfect storm'. The more it goes on the worse you feel and it becomes a vicious cycle. Medication lifted me out of the hole I was in so I could start living my life again.
After 6 months I came off the meds and was mostly fine until a few months after baby 2 was born and the insomnia and anxiety kicked back in. So I've been back on the meds for 10 months and am doing really well. Next hurdle – coming off the meds! I now live in Wellington.
---
November 16th, 2012 by motheradmin
Postnatal Depression week is 17-25 November.  Our theme is "Breaking the Silence"…  In the spirit of that theme, Mothers Helpers will be posting on our blog stories of mums who have battled postnatal depression.  This is Lisa's story.
I have always wanted to be a Mum. Right from when I was a teenager I can remember longing to have a baby. When I got married at 22, all that was on my mind was babies babies babies. It took a while to fall pregnant with my son, nearly a year. Trying to conceive him was stressful and I became absolutely obsessed with the process and convinced myself I wouldn't be able to have children. Perhaps this is where my depression started. When I fell pregnant with him finally, I was absolutely estatic. Being pregnant was the most wonderful time of my life. There was so much hope and happiness and excitement, planning for this little life, what he would be like, what he would look like, every little detail. I have never been so happy or so secure within myself. I look back on my pregnancy with such fondness, even though it wasn't all smooth sailing. I had my appendix out at 9 weeks pregnant, risking losing the baby, and from 36 weeks I got high blood pressure and borderline pre-eclampsia, which was a horrible experience to go through. But my beautiful little boy arrived 2 weeks early, the night before a planned induction.
My birth experience all in all was wonderful and I cried tears of joy when this amazing little being was placed into my arms. But the first few days in hospital were not as I expected. This beautiful little boy was rather grumpy because he had been pulled out with forceps and was bruised from head to toe. He screamed and screamed all of the time he was awake, and I had no idea what to do with him. Because he was so upset, he refused to feed. I had midwives and lactation consultants poking and prodding at me, and as a rather shy person who was not used to baring it all for the world to see, I found that experience humiliating. But we finally managed to get breastfeeding going, and were allowed to go home. The first week was a dream. I couldn't believe how beautiful my baby boy was, took a million pictures, gazed at him sleeping, it was everything you imagine it would be.
But after the first week, something shifted. My previously content little boy suddenly started screaming all the time he was awake. He began refusing to feed, physically pushing away and arching, and spewing up most of what he was fed. He was unhappy most of the time being on his back, most of the time in general- if he was awake, he was unhappy. I took him to the doctor and they said it was likely reflux, and gave me some medicine to give him which I had to syringe into him at every feed. There was something quite unsettling about medicating my 2 week old, but I did it anyhow. The medicine didn't really help and I continued to have a screaming baby. He would stay awake pretty much all day. I would have to rock him for 40 minutes to get him to go to sleep only to put him down and have him wake screaming 15 minutes later. I couldn't do anything- eat, sleep, live. I remember a few nights of tending to this screaming baby for hours on end, willing him to stop, tears streaming down my own face, to the point where I was lying on the ground sobbing at my wits end, not knowing what to do. It's amazing what listening to a screaming crying baby for hours on end can do to a person, moreso when it's your own and it provokes that emotional reaction. I began to lose myself in all of this. It felt like a living hell. Every day I would wake up dreading what might happen. Sometimes I would rather hide under the sheets than get up and face the day. Each night I would cry to my husband exhausted over just how hard it was. It really did feel like some kind of torture. And the worst part was I loved him SO much, I couldn't understand why caring for him was such a nightmare. I felt like if only I was a stronger person, a better mother, it wouldn't get to me so much.
Things came to a head when he began to point blank refuse to breastfeed, and I had to put him on a bottle. I remember passing him to my husband and collapsing in tears because I just couldn't do the one thing I was meant to do- he didn't even want to. At first I tried to express all his feeds so he could stay on breastmilk, but after a while I just couldn't keep up with the 3 hourly ritual alongside a baby that didn't sleep and eventually my supply got low, and I switched to formula. I was the first of my coffee group to do this and I faced judgement and worse still pity, which served to make me feel worse. All the while I was thinking, it wasn't meant to be like this! I was meant to have a lovely happy baby who was breastfed and all was meant to be well in the world.
Things came to a head for me when I was standing in the kitchen one night making a bottle for the screaming baby downstairs, and I looked over at the knife block and I thought, I can understand why people cut themselves. It always seemed like such a foreign and absurd idea to me, but in that moment, I could understand the idea of wanting to feel another different kind of pain, so you didn't have to feel the one you were feeling at that moment. With the encouragement of my family, I went to see my lovely GP who encouraged me to try some antidepressants. I was willing, as I just wanted to feel better somehow. For the first 2 weeks I felt like a bit of an alien, my head was buzzy, I didn't feel myself somehow. Slowly but surely after that though, things got a little bit easier. I like to think of it like instead of being a rollercoaster of up and down, I was more like a straight line, not ecstatically happy not terribly sad, and it allowed me to cope.
The experience of a difficult baby and my depression also took a huge toll on my previously very stable and secure marriage. The stress led to fights and in hindsight perhaps my husband experienced some degree of depression himself. Neither of us expected parenthood to be as it was up until that point and we took the stress out on each other. Gradually things got a little easier. I took my son to a paediatrician to try and figure out his severe reflux and we discovered he was dairy intolerant and he was put onto a hypoallergenic formula. After this, he was a changed baby. He stopped vomiting after every feed, stopped screaming so much and I was able to see the happy baby again that I always knew was there.
After this we started to heal. There were still some very rough times along the way in the first year and a half. Times where parenthood really just was the worst thing I had ever done. And also times where it was absolutely the best thing. We fought many times, I cried many times, spent many nights up with a screaming baby. At times I feared I was losing my mind, that I would never get through it. These days things are a lot better for me. I am still on antidepressants, having tried to come off them twice unsuccessfully and I find myself better on them for the moment. I have returned to work which I found to be a massive turning point in overcoming my depression. I was able to gain some self esteem again as I lost it all going through PND, I was able to see myself as worthy again, as a person again. My son has thrived at daycare, having more money has taken some pressure off, and our relationship is going from strength to strength having faced all this and made it through.
I still feel sad looking back that my first experience of motherhood had to be that way, and it will take me a while to come to terms with the fact that most people don't experience this, but, more people do than you realise and that's ok. For now we are not having any more children as I am not ready, and things are good as they are, but one day I may feel strong enough to do it all over again.
Mothers Helpers offers support to prevent postnatal depression in those who are at-risk, and minimize the damage it can cause a mother and her family.  To support our work, buy a green ribbon, make a donation – give a little!!!
---
July 22nd, 2012 by motheradmin
Preparing for a Charity Fundraiser for Mothers Helpers, I switched on 1ZB to find that John Kirwan (who is honestly my hero at the moment when it comes to his own mental health and being a spokesperson for mental health) was being interviewed.  But what was most astonishing to me was that he was being interviewed by Tony Veitch.
Most of us know that Tony Veitch pleaded guilty in 2009 and was convicted of "Injuring with Reckless Regard" when in 2006 (or thereabouts) he kicked his then-partner Kristin Dunne-Powell causing her spine to fracture in several places.  Kristin Dunne-Powell's injuries were severe enough that she had to use a wheelchair temporarily while she recovered.  At the time, Tony Veitch stepped down from all media work that he was doing, but in 2010, 1ZB offered him a position hosting two sports programmes which has continued to this day.
Of course, in the past two years I have been so consumed with my little boy (now 2yrs and 8mths old) and it has to be said that his "I don't want that one!" cries at the 6pm news make me cave in to his "Little Einsteins" demands.  Not to mention the fact that I am yet to read through an entire magazine since his birth, and any newspapers I buy have ended up lining the recycle bin unopened unless I'm fortunate enough to grab a few minutes alone in a cafe…  I'm sure you mums understand!  So whence the delayed (2 year!) reaction to Tony Veitch's re-appointment to broadcasting.  However, after hearing John Kirwan's interview by Veitch yesterday, I felt it was important that I write an opinion from the perspective of Mothers Helpers and I have been reviewing the information that has come out since Veitch's trial including his own interview on Close Up and statements by Anti-Violence campaigners, the 'It's Not OK' campaign and the Mental Health Foundation.
Disclaimer:  Many people make the argument that women can be equally as abusive/violent as men and there are cases where women are abusive (more about what is abuse later) towards a man who does not use his physical strength to retaliate.  However, in the case of physical abuse, it's important to mention the physical strength that a man has over a woman – so even if she fights back (and often women do in these situations, which means that she feels "partly responsible" and "just as much to blame"), he has a clear advantage in terms of power, and is able to dominate and intimidate as a result of his strength when matched with a woman.  It is that use of domination, intimidation and her subsequent fear and loss of power that causes her to feel vulnerable.  But feelings aside, the facts remain that it is his physical strength (when used) that puts her life at risk.  For this reason, this article uses the male pronoun "he/him" when describing the abusor.
Tony's Interview
I watched the Close-Up interview of Tony Veitch and what struck me was how angry and indignant he was.  He spoke like a man defending himself.  I would suggest that 80-90% of the interview Veitch chose to speak about how difficult the situation had been for him – how the relationship had caused him to become overwhelmingly stressed that led to losing control, that the media had printed lies about him, that he had lost his livelihood, that he had become suicidal.  Comparatively, he minimized his own behaviour and the consequences that had for Kristin Dunne-Powell.  I would like to pick up some of the points Veitch made in his interview:
I Am Not a Violent Man – I Made a Mistake – Tony Veitch started his interview by denying he was a violent man and frequently referred to the incident where he kicked Kristin's back until it fractured in several places as being a "mistake".  For me, this was the biggest indicator that Tony Veitch had not taken responsibility or faced himself.  All of us have faced extremely stressful circumstances, have been backed into a corner and have been tested as to how we are going to deal with it.  For those of us who have experienced postnatal depression, we know what it is to have emotions that have overwhelmed us to the point of being out-of-control.  However, for the majority of New Zealanders who have had situations and feelings of overwhelming stress and rage, we have not acted with violence to another person.  It's unusual for violence to occur once, out-of-the-blue.  Research argues against Tony's statement suggesting that it was a one-off incident.  Usually there is an ongoing abusive relationship leading up to it – refer to the Power-Control wheel which describes abuse.  We don't know what went on in that relationship or how Tony Veitch behaved towards Kristin or his current wife  however there were allegations (reports from Kristin herself in a police file that our "justice system" has now repressed) that there was a long history of abuse by Tony Veitch towards his partner.  It's important to note that according to the Power-Control wheel, an abusive man will "minimise, deny and blame."  He will make light of the abuse and will shift the responsibility for the abusive behaviour away from himself – often by saying she caused it.   In this instance, Tony Veitch's statement "I am not a violent man – I made a mistake" both denies and minimizes his behaviour.  Furthermore, he chooses words that clearly show that he believes himself to be the victim, eg. "I suffered a conviction".   In fact, there is something inside him that gives way to violence where others would not.  And it is likely that it is part of a pattern of behaviour found on the Power-Control wheel that has been there for a long time.  Therapists often refer to "violence" in more ways than just the act of physical assault.  It is my guess that Tony is likely to have adopted a range of behaviours that have led him to this kind of violence.  It's possible that the court action and trial-by-public (via media) has been enough of a consequence that it will stop Tony from lashing out again.  However, the stuff inside him that caused him to, still remains.  Accepting full responsibility is an outward sign of some inner work taking place.  Tony Veitch did not show this in his Close-Up interview.
Lack of Insight or Compassion – When a woman is physically abused, there is so much more going on than the physical bruises or in this case, the healing of a fractured spine.  Sometimes I cringe when I hear people ask "what did he do to you?" or "how bad was it?"  We measure the degree of abuse by how severe the physical consequence of the violence was.  But we underestimate the mental and emotional scars that occur as a result of physical abuse.  Everyone is affected differently from trauma such as this – but for many fear and anxiety can become a constant companion.  Mental health illnesses might develop.  Certainly confidence, self-esteem and the ability to trust others are likely to be affected.  Because of these struggles, it's likely to affect her ability to work and function in a range of settings including current or future relationships.  Tony Veitch was given an opportunity by the "It's Not Ok" anti-violence campaign to become a spokesperson for those who have shown violent behaviour in the past, but he has not taken that opportunity.  As mentioned previously, in his Close-Up interview, Tony Veitch did not focus on his own behaviour or the consequences that might have had for Kristin.  Instead, his focus was on the trial, conviction and public scrutiny and the effect that had on him.
Blame – Someone recently implied that Kristin Dunne-Powell likely contributed to the volatile relationship and this was all about a bit of money and revenge.  It certainly gave me clear insight as to "what is OK" in their world when it comes to domestic violence, and I want to address this issue because I fear that a lot of New Zealanders have this opinion in general.  We have already discussed the power and strength differences between men and women and that they are not on the same playing field in that regard.  But there's more to it than that.  The fact is that no matter what a person is like, no matter how much she provokes him, it does not excuse his violent reaction.  He is responsible for the way he reacts to a situation.  She is not responsible for it.  But men who abuse tend to shift the focus onto her behaviour and make it seem like it was difficult if not impossible for him to react any differently.  In his interview, Tony focused on how she wouldn't leave the house and it was his house, and how he'd been reduced to lying on the bed and putting his fingers in his ears (while she was obviously berating him) which drove him to do what he did. He spoke about himself as if he was the victim. He'd mentioned how he'd first driven away from the house and gone to the beach, and then returned where it all unfolded.  When a person is stressed and angry, in order to keep himself and other people safe – he needs to remove himself from the situation until he has calmed down – yet Tony chose to return and to remain there despite how he was feeling, until he snapped.  I particularly disliked the way that Veitch "dug up dirt" (what he called "evidence") about Kristin and how he'd "enjoyed it".  I found that statement particularly sickening.  And when the interviewer (Mark) asked him whether he thought it was best for Kristin that a court hearing didn't take place, he indicated that it most certainly was, but it was the implied threats that followed after that statement that I found surprising.  I expected him to show some compassion towards Kristin's stress levels, but instead he made it clear that it would "hurt a lot of people" (presumably in her world) if he were to bring the "facts and evidence" he had planned to bring.  And I was saddened to hear that his wife had also taken part in the "digging".  Sometimes we collude with someone because we need to believe their story – because the alternative is unbearable and we don't want to face it.  But it's that kind of colluding that doesn't help Tony, but hinders him from taking responsibility.  Again, no matter what "dirt" they found – nothing takes away from the actions he took, the decisions he made and the violence that occured that he is responsible for.
Keeping Things Quiet – In his interview, Tony Veitch also talked about how "disappointed" he was that Kristin didn't keep this all quiet and "disappointed" with the way in which she'd handled it.  That it was worse for all concerned that it went to court and into the public arena.  In fact, it seems to me that Kristin was entitled to some kind of financial compensation, but it's really important that Kristin laid charges, and I commend her for it.  The most difficult thing to do when experiencing any kind of abuse is to speak up about it.  She did the right thing.  It was important that Tony Veitch was held responsible for his actions, and accepted the consequences.  It's often through these kinds of consequences that a man finally takes responsibility and begins to change.  And while that remains to be seen in Tony's case, who knows whether in fact this has been a stepping stone in the right direction for him doing just that?  Or preventing another incident such as this one?  It seems to me that if Tony had a healthy perspective, he would have acknowledged that he (Tony) needed to take whatever consequences were given to him for the actions he took.  I mean to say, Tony – at the very least can you not accept that your actions were illegal and she had every right to take you to court!  He should have, in fact, supported her in it completely if he were truly remorseful.  And he would understand that the greatest challenge with Domestic Violence is encouraging women to report it.  To speak about it.  To ask for help.
The Court Sentence
Veitch was sentenced to nine months supervision, 300 hours community service and a $10,000 fine with the possibility of having to attend a Stop Violence programme should this be deemed necessary by parole officials.  Fortunately, parole officials did deem it necessary, but overall I am shocked at this sentence.  Veitch had kicked in a woman's back until it broke, and he literally had 5 hours in jail. What does this say about us as a society in New Zealand that you can assault a woman to the point where you cause such damage as you might threaten paralysis or even death, but at the very least 6 weeks in a wheelchair suffering from spinal fractures, and yet the consequences are a minor fine, and a bit of part-time community services work?  I believe that sends a very clear message as to the values in our country when it comes to Domestic Violence, and that we have a long way to go in this campaign.  Sadly, the consequences do nothing to help Tony Veitch gain insight or accept responsibility.  Comparatively, here is the testimony of Kristin Dunne-Powell of what she has had to endure as a result of the incident:  Kristin's Statement
Apparently, as part of his defense, Veitch had sought a number of character references including those from Susan Devoy and Dave Currie.   It has since come out that those people were led to believe that they were providing these references for a passport application, however Veitch used them in court as testimonials to get a lighter sentence.
Return to Public Profile
Believe me, I am all for second chances when that person has hand-on-heart taken responsibility by acknowledging fault and taking steps to ensure it doesn't happen again – however, this is not the case for Tony Veitch.  Within a year of sentencing 1ZB had given Veitch a sports hosting position and he returned to the public eye.  When a person is in the public eye, they are being held up as a representative not just of the company but in this case, NZ Radio and New Zealand itself.  This was the argument given for suspending and forcing Paul Henry's resignation when he made some offensive racial remarks.  Personally, I didn't think his remarks warranted that kind of action, but suffice to say that we seem to take racial 'jokes' more seriously than we do domestic violence.  No matter which way you see it, for those that listen to his sports shows – and let's face it, New Zealand loves their sport – Tony Veitch is a kind of role model in such a public position.  We have to ask ourselves, if experts in Anti-Violence are less than convinced that Tony Veitch has taken sufficient responsibility for his actions of assault and violence, why then would we herald him as a sports commentator for our country?  And again, what does that say about the values in our society when faced with 120 reported cases of Domestic Violence in Auckland alone – bearing in mind that these are only the ones that are reported.
Suicide Attempts
There have been reports of 3 or 4 suicide attempts by Tony Veitch.  His attempts were not following the assault on Kristin Dunne-Powell, but following public scrutiny and legal action.  Each of them were dramatic and involved Police searching for his whereabouts, helicopter searches and so on.  Therefore, each have been reported by the media.  In light of the fact that I represent "Mothers Helpers" and we help mothers that are at-risk of depression or suffering from it, and believe whole-heartedly that suicide is not the solution, I will not seek to make light of these attempts.  My only comment is to suggest that Tony finds a different way to seek help.
What I Would Like to See
I would like to see Tony Veitch take up the offer from the Mental Health Foundation to work with them in offering him support to accept responsibility for the violence in his past (and ongoing issues), to work on changing patterns of behaviour, and to become a role model to others caught in a cycle of abuse (often victim and perpetrator) to get help so they can change it.  Only then would I support Tony Veitch returning to a prominent role in media as sports commentator.  If you choose to work in the public eye, it's important that you represent New Zealand well and without that obvious change in heart and in attitude, it should not be given to you.
I would encourage anyone to boycott his sports programme on 1ZB for this reason, and I'm surprised at John Kirwan for appearing on his show.
Are You OK?
If you are in a violent relationship or you know someone who is, there is help, information and support available to you.  Click here for more information on getting help.
If you are worried about your own depression, your stress levels and uncontrollable anger/emotions, and how that is affecting you, your baby or your family – or you're worried about your own safety or the safety of the children in your care, please Contact Us.  For urgent 24hr phonecall assistance contact Lifeline.
---
June 21st, 2012 by motheradmin
Why You Need a Break
What an understatement!  The reason why Mothers Helpers provides mums suffering from postnatal depression (with no support system to help) with volunteers to help with childcare and housework is simply because we know how vital having a regular break is to recovery.  Motherhood is relentless.  It is a 24hr/day, 7 days/week job.  For many of us with young babies or with babies that don't sleep well, even night times are not our own to get sufficient rest.  But too often, mothers have an expectation of themselves that a "good mother" is some kind of martyr/heroine/supermum that getting our own needs met is plain selfish.  And here's where we need to challenge that kind of thinking.
Challenging the Barriers
I'm not going to discuss where that thinking comes from or how we can challenge it.  If you'd like to read more about Expectations, check out an earlier post I wrote titled "Expectations".  The first step to getting a break is to recognize that you need one, to accept that your needs are important too, and to give yourself permission to have a break.  Many women with postnatal depression have anxiety about leaving their baby with someone else to care for them.  This is normal.  The best way to work through this is to start small with someone you know and trust and gradually build it up from there. The second step is to assess your current resources to see how it can be achieved.
Identify Your Resources
So many mothers truly believe they have no options.  But you have more than you think.  Let's first of all take a look at your current resources:
Make a list of all your family members that live in the same city and in particular, those that live close by to you.  Consider their available time.  Find out from those family members how often they'd be willing to take care of your little one.
Have a discussion with your partner (or your child's father or the father's family) and find out how willing and available they are to take care of baby while you have a break.
Consider your circle of friends and acquaintances.  They might be other mothers from your coffee group.  Perhaps they would be willing to do playdates or taking turns at taking the kids so that you can both get a break and mutually help one another?
Consider your financial budget.  Try to factor in some childcare costs whether that's daytime or evening babysitting.  Remember this is not a treat, this is a need.
Now that you've identified the current resources you have available to you, ask.  It is the hardest part and so many mothers are so afraid to ask for help or for a break or for their own needs that they let things go on the way they are for month after month, year after year.  But you cannot afford to do this.  Your mental health is important.  It affects you, it affects your family – your marriage/relationship and your child.  You owe it to yourself, and to your family to take care of yourself and get better.  So pluck up the courage and ask – and do it once.  What I mean by that is, ask them for a regular day and a regular time and stick it in both your diaries or on both your calendars  – so that you don't have to pluck up the courage over and over again to ask for help.  It will be too hard and you'll stop doing it.  Do it once and organize it so it's a regular thing.
More Ideas
Now here's some resources you probably didn't know about or you've never considered before:
Any family that receives any assistance from the Government (including Working for Families) is entitled to receive up to 9hrs subsidised childcare.
If you have postnatal depression you are eligible to receive a Disability Allowance through WINZ – particularly if you are on a benefit.  Part of that Allowance can include Childcare Costs.  With a supporting letter from your GP you can receive up to 50hrs subsidised childcare per week.
Consider having an Au Pair.  An Au Pair lives in with you and provides you with childcare and housework assistance.  Usually between 20 and 40hrs/week.  Costs are usually around $180/wk.  However, many young people with childcare experience on their O.E. to New Zealand are happy to provide some free childcare and housework hours in exchange for free board and accommodation.  If you have the room in your house, I highly recommend this.  Advertise for free on the Backpackers Noticeboard online!
When your baby is heading towards toddlerhood you might feel comfortable hiring a student as a babysitter.  Often students are happy to come and babysit a sleeping child while they do some study for a small amount of cash.  Advertise on Gumtree for free!
Consider attending groups that have a free or affordable creche (yes, they do exist!)
Playgroups/coffee groups are better than nothing – so long as the mums really are socializing and talking amongst themselves!
What to Do With that Precious Time
Now that you've established a way to get a break, it's really important that you use the time wisely.  Don't spend it running errands, paying bills, or getting the housework done.  This time is for you, and it's important.  Here are some ideas:
Attend counselling appointments
Go for a walk
Develop an interest/hobby: eg. scrapbooking, gym, swimming
Meet a friend for coffee (no babies!)
Go to a movie or out for a drink with a friend
Go to a class of interest, eg. learn a language, cooking class, pottery class, art class, photography class, dance class
Spoil yourself: a massage or a hair appointment or a manicure!
Have a nap (particularly if you're sleep-deprived – but don't over-indulge in sleeping – often this can be a symptom of depression and if that's your situation, it's much better if you get outside for a walk than give in to the blankets!)
And yes, mum, your needs are just as important and you do deserve it!  Talk to your partner and get his support.  Help him to see that this will help your recovery from PND.
---
June 21st, 2012 by motheradmin
Risk Factors for Postnatal Depression
Those more at-risk of developing postnatal depression have one or more of the following:
Previous Depressive episode
Relationship/marriage difficulties
Financial difficulties
Poor family support
Single mother
Young mother (ie. under the age of 22yo)
Having difficulty breastfeeding
Baby with colic/reflux or illness
Other significant stress, eg. death in the family
If you are currently pregnant, Mothers Helpers can provide you with a wide range of support to keep stress to a minimum with an aim to prevent postnatal depression.  If you've already had your baby and you have any of the risk-factors above or any of the symptoms of PND (we can test your symptoms), Mothers Helpers can provide you with support so that you can recover more quickly and more fully.
By increasing support and directly addressing the specific stress you are dealing with, together we could prevent you from experiencing postnatal depression.
What Helps Recovery?
It helps to look at your health holistically.   Many people try to treat mental illness including Postnatal Depression using one method of treatment.  The reason this is not very effective is because human beings are made up of physical, mental, emotional/psychosocial, spiritual and cultural aspects of ourselves.  These are all connected and impact on one another.  The best way of healing and recovering from mental illness is working with each of these.  Mothers Helpers does a holistic assessment and helps you to recognize where you are experiencing stress in each of these areas and gives you resources, help and support as well as goal-setting with these.
We talk about your specific situation and the specific issues you are facing.  But there are common problems that mothers with postnatal depression experience, and so here are some ideas of what will help you to recover from PND:
Physical
Regular exercise – preferably something you enjoy; even a leisurely walk will help
Good diet
Medication – not everyone needs medication, not everyone responds to medication, but most people diagnosed with postnatal depression will often find some form of medication helpful and with a combination of counselling, they're likely to recover more quickly than those who do not take medication.  We will write more on Medication in a future blog.
Some people swear by natural remedies.  This is a personal choice.  If you are interested in finding out more, see your Naturopath
Sunshine and nature – many people recovering from postnatal depression find they are especially sensitive to the sun and to nature and find it extremely beneficial.  Aim to spend a good 15 minutes in the sun every day or more if you can.  It releases good chemicals and hormones in your body (so does exercise).
Mental
Many women find that adjusting to being at home with their baby day after day is very difficult and many women find that returning to work or studying or working on a project gives them the intellectual stimulation that helps lift their mood.  It's not necessarily where all women are at, but some women find that their mental health improves when they make these changes.
Psychosocial
Emotionally, there is so much to adjust to as a mother.  Even if you are a mother for the 2nd or 3rd time, every situation is different.  You might be adjusting to juggling a 2nd child with a demanding toddler in the mix; or there might be a wide age gap between your children and it's almost like having a baby for the first time!  Whatever your situation, emotionally it has an affect on us while we are coming to terms with the changes and adjusting.
Inevitably if you have postnatal depression, you are likely suffering from significant stress in your life.  Whether it's stress in your relationship, difficulties with your baby sleeping or feeding, lack of support or something else.
More than 50% of mothers feel isolated as the latest NZ survey that came out, told us.  And it can be particularly isolating when your baby is very small.
We recommend spending time talking with a counsellor on a regular basis to process all the adjustments that are going on, alleviate the stress that you are feeling and gain support.  Research shows that mothers recover more quickly from PND when attending regular counselling and taking medication together.
We also recommend finding out your local mother's groups/coffee groups.  Mothers Helpers can help you to tap into those resources.  There are also support groups and social groups for young mums, single mums and mums with postnatal depression and a range of other supports online or otherwise for those with other difficulties eg. sick child, breastfeeding difficulties.
Getting a break:  Everyone needs a break from time to time, and that includes you.  Time to rest, time to develop an interest/hobby, time for recreation.  In our next blog post we will talk about ideas as to how you can get a break.  It's vital to recovery!
So often mothers diagnosed with postnatal depression end up on medication and that is the only change they make to their life and find that not only are they taking a long time to recover, they risk relapse.  This is because if the stress that was there at the beginning is still there 6 months/12 months later, it continues to put them at risk of depression.
The reason why the combination of counselling and medication is recommended to be the quickest road to recovery is twofold:  Medication will give you sufficient wellness to motivate you to see a counsellor, and to deal with some of the difficult topics you will need to discuss in order to get well.  Counselling will discuss some of the stress you're currently under and what has likely contributed to your depression, and ways you might find change – whether its internal or external changes that need to be made.
---
May 22nd, 2012 by motheradmin
May 20th, 2012 by motheradmin