Posts Tagged 'PND'
May 7th, 2016 by motheradmin
by Mothers Helpers Founder Kristina Paterson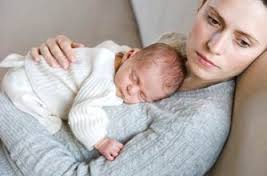 It took me 18 months to go and get some help for the way that I was feeling.  9 of those months I was anxious throughout my pregnancy but the midwife didn't pick up on it.  In the first week after my baby was born, I had a new midwife, and she said to me that if I was still crying by day 7 (hours of crying every day), then I'd have to go and see the doctor as I may have postnatal depression.  So I forced myself to stop crying.  I didn't want to have postnatal depression.  And I didn't want to have postnatal depression for the next 9 months that I avoided seeking help.  I did go and see a counsellor, but it had little impact on me.  I knew that if I went to the doctor, he would diagnose me and offer me medication that I didn't want to take.  This inability to be rational and problem-solve clearly as well as denial of the full extent of the problem is very common for mothers who experience antenatal or postnatal depression.  It's even harder if this is your first baby and you have nothing to compare your experience to.  I left it till things were really, really bad before I got help.  By that time my energy was so low that I could barely manage to get myself off the couch, I had to summon all of it just to attend to my baby's needs, the entire 12 hours or more of caring for my baby on my own while my husband was at work overwhelmed me.
When I finally went to the GP, I of course was offered medication, which I accepted.  And I felt better within a few weeks.  I didn't know at the time that medication was not a miracle cure – that within 12 months, the medication would stop working simply because I had not made any changes to my life.  I didn't know that recovery from depression required an holistic approach.  I didn't know because nobody told me and there was nothing out there that helped me to understand recovery from depression more fully or to help me make those changes.
The consequences of depression that was not diagnosed and not treated for such a long time was devastating for me.  I developed chronic (life-long) depression.  Most of the time I am well, but it means that I have to take medication and commit to holistically caring for myself in order that I stay well.  Antenatal and Postnatal Depression was definitely a contributing cause of my marriage breaking down and subsequent separation.  Tragically, it is likely to be a contributing factor of my 6 year old son's development of an anxiety disorder – the impact of which we are still wrestling with on a daily basis.  I can almost bear my own suffering in this whole story, but watching my son suffer is really unbearable.  Every family has their challenges, but the challenges I have faced are preventable, and I want to prevent this suffering from happening to you and your family.
I don't write this to frighten you.  The last thing I want to do is cause you more anxiety.  I write this because I want so much for you to get help for your depression and anxiety.  It is crucial not only to your own wellbeing, but to the wellbeing of your family.  Please go to the GP.  Please consider treatment.  Please find out more about how you can recover holistically from antenatal/postnatal depression and anxiety.  Mothers Helpers runs courses throughout Auckland and an online course that is available to anyone in the country.  These courses have proven to help the majority of mothers to recover from PND, and all of them their condition has improved.
---
November 9th, 2014 by motheradmin
Dear Mums,
It is the last day of Postnatal Depression Awareness week for 2014.  Usually, I am out there planning an event, fundraising for the cause, creating awareness.  This year, I am taking care of my own health after a series of stressful events that has prompted me with the little reminder "Kristina, take care of yourself!"  You see, like you, I suffer with depression.  Sadly, Postnatal Depression was my second major depressive episode and for many reasons, I never fully recovered.  Like (my hero) John Kirwan says, these days my goal is not recovery but wellness and there are times I need to take special care of myself to achieve that.
Mothers Helpers has been going for 4 years now (officially) and in that time we have seen many challenges.  Those challenges have not been just the usual challenges that charities face – largely, funds restricting their ability to offer the service they're wanting to deliver or a lack of volunteers helping with that service.  In addition to those, I have had well-meaning people tell me why we could not possibly achieve what we are wanting to achieve – why mothers would not come to our groups, why we can't do what we want to do (help mums at-risk or suffering with postnatal depression) without adequate funding.  I've been told that our services are not needed because there is not as much of a gap there as we know there is.  I've had organizations refuse to refer mothers to our service because they believe there is no gap – yet, in the past, we have at times, struggled with the sheer number of mothers who have asked us for help but thankfully, now we are in a position to meet that need consistently.  I have had people say to me that they don't know why (with all these challenges, and sometimes lack of help/support of what we're trying to achieve) I don't walk away from it all, give up on what has been a hard road trying to provide a service that genuinely helps mothers despite our lack of funds and staff/volunteers or other supports or resources to deliver that service.
Most certainly, these challenges have discouraged me considerably at times, had me in tears on numerous occasions and admittedly, there have been moments I've seriously thought about throwing in the towel.  Certainly, there are people in our organization that are so instrumental to our work that it could not happen without them.  Board members Becs Ballard and Ildiko Baigent have been ongoing champions and supporters of the cause and of me personally and I'm grateful to them for standing by me, my Group Facilitators and student counsellors Tara English and Noor Hassan this past year working with groups or one-on-one with our mums, volunteers such as Denisa and (more recently) Kiri Windross helping with administration – and the various volunteers we've had over the years helping with events or helping at market stalls promoting our work.  I'm grateful to those who have sponsored a mother who has not been able to afford the cost of attending our recovery groups.  I'm grateful to those who have sponsored us by donating printing or counselling rooms or heavily discounting products and services that we need to continue our work.  I'm grateful to the organizations such as Maternal Mental Health, Plunket, other similar agencies, the General Practitioners and Midwives that refer mothers to our service because they believe in the help and support we are offering mothers.  The 50 or so "Friends of Mothers Helpers" that are behind what we do.  In addition to the continuation of the organization itself, these people have been an enormous encouragement to me that yes, there are people who believe in what we are doing and stand behind us and I am very very grateful to them for that.  And despite all of the challenges Mothers Helpers has experienced, there are two significant reasons I can't and won't walk away or give up on this despite any challenge that comes my way.  The first is because I know that there is a gap that exists for mothers with mild-moderate postnatal depression in terms of holistic help and support to aide recovery.  The second is, quite simply, you.
You are the reason why I do what I do even when I sometimes struggle with my own health/depression and have to take a small step back from it all.  You're the reason why I persist in the face of any challenge and won't give up.  When I walk into an event with a bunch of other organizations all vying for the same pot of funding and I feel completely alone because they feel competitive and that I am a threat to their charity's survival (when all I want to do is have a mutually supportive relationship), I remain in that event for you.  When I am the only voice championing this cause to doctors, to midwives, to hospital staff, to birth educators, to agencies, to the Government or the wider community – I am doing it because of you.
You are my motivation because I see and hear your stories of pain and struggle – fighting to be a good mother to the children that you love and wanting to do your very best, but held back by the ongoing battle with depression.  And I have been in that battle – I know what it's like – I know the courage it takes for you to face each and every day with your own challenges.  I know the battle that is in your mind, the constant negative thoughts that berate you while you're trying to do the best you can, the emotions that overwhelm you, the energy that you lack and the desire to stay in bed yet forcing yourself forward into the day for the sake of your kids.  I know the guilt that plagues you, the feelings of despair, anger, resentment and the longing to be free from this terrible illness that robs you from all of the joyful experiences you wanted in your pregnancy, in childbirth, in those early days of mothering.  You are my heroes – the sheer strength and determination you show in the face of your day-to-day challenges motivates me to overcome the challenges I face in providing this service for you.  I want to fight to provide the kind of support that can prevent Postnatal Depression for mothers who are at-risk of it, and I know that with the right kind of support, that is possible.  I want to fight to provide an holistic service that helps mothers to recover from Postnatal Depression so that you can be well and free from the battle that now plagues you so that you can fully enjoy your experience of motherhood, and so that  together we can prevent the consequences of Postnatal Depression in your life such as poor attachment between mother and child, depression becoming severe, hospitalization, breakdown in relationships/marriage and yes, even suicide…  My reward is witnessing your recovery when I see mothers soaking up the information we're offering and motivated with that newfound information to make changes in their life bit by bit.  The reward is seeing you well and enjoying life again.
To all mothers with Postnatal Depression, I applaud you.  I applaud your strength, your courage in this battle.  I have deep admiration for you.  It is not your fault that this is your experience and yet too often you face these challenges without the understanding or support from those around you  – sometimes, you even experience stigma and judgment or hide your private battle in fear that you will.  I want to tell you that you are not alone.  You are my friends and my sisters in this battle.  Mothers Helpers is here because of you – because we believe you can win this battle and we'd like to help you to do it – like to support you on that journey, because we understand what that battle is like and know how hard it is.  I want you to have hope – I want you to know that you don't have to do this alone, and I want you to know that with help, you can recover – you can be well again.
Kristina Paterson
Founder of Mothers Helpers
How Can You Help to Support this Cause?
Tell others about Mothers Helpers – share this and other articles on your social network pages
If you are a GP, midwife, agency, friend, family member – refer mothers at-risk or suffering with postnatal depression  to our service so we can offer help to them
Volunteer – we have plenty of opportunities for people to help with whatever time they have available
If you would like to gift a mother with Postnatal Depression a beautiful "candle of hope" you can do that by donating $6 to us on "Give a Little"
---
November 27th, 2012 by motheradmin
November 20th, 2012 by motheradmin
Postnatal Depression week is 17-25 November.  Our theme is "Breaking the Silence"…  In the spirit of that theme, Mothers Helpers will be posting on our blog stories of mums who have battled postnatal depression.
This is Ruth Sell's story…
Before having kids I really believed I could handle anything. I was a successful Advertising executive, I had travelled the world on my own and had come through many personal challenges, I had never suffered serious depression. Not much was said about PND prior to the birth, and what I did hear about I paid little attention to. If anyone had asked more about my history of anxiety or how well I deal with sleep deprivation it might have hit home a little more, but still I wouldn't have expected it.
My pregnancy was wonderful and the birth was easy by my midwife's standards (though it was hands down the most painful and gruelling experience of my life). My son fed well and was healthy. I had a supportive husband and no financial worries. Our only vulnerability was that we were on the other side of the world from all our family and being new to Auckland we had very few friends.
The PND started pretty much from the birth of my son but I didn't really realise it was unusual until he was 3 months old. I developed terrible insomnia and anxiety, which led me to get depressed. I went to a useless GP who didn't even look me in the eye as she prescribed me medication that didn't work.
In desperation I flew back to the UK and stayed with my Mum for 6 weeks. When I got back to Auckland things were at breaking point, I never thought I would come so close to ending my life, it was a terrible terrible time. Thankfully I discovered an amazing GP who told me "you know it's not normal to feel this way. You're missing out on your son and you deserve to enjoy life and being a mum.' She gave me the right medication and I started going to a support group and a therapist. I also found the most amazing acupuncturist.
I learnt that PND really is an illness. It's not all in your head, much as it feels like it. Your body becomes so depleted from the physical trauma of birth, and the physical and mental challenge of being a mum that it can't perform the functions that help you sleep and feel happy and have energy etc. Add to this the reality of all the challenges and emotions that come with being a Mum, plus the crazy hormonal changes and it is a 'perfect storm'. The more it goes on the worse you feel and it becomes a vicious cycle. Medication lifted me out of the hole I was in so I could start living my life again.
After 6 months I came off the meds and was mostly fine until a few months after baby 2 was born and the insomnia and anxiety kicked back in. So I've been back on the meds for 10 months and am doing really well. Next hurdle – coming off the meds! I now live in Wellington.
---
June 21st, 2012 by motheradmin
Why You Need a Break
What an understatement!  The reason why Mothers Helpers provides mums suffering from postnatal depression (with no support system to help) with volunteers to help with childcare and housework is simply because we know how vital having a regular break is to recovery.  Motherhood is relentless.  It is a 24hr/day, 7 days/week job.  For many of us with young babies or with babies that don't sleep well, even night times are not our own to get sufficient rest.  But too often, mothers have an expectation of themselves that a "good mother" is some kind of martyr/heroine/supermum that getting our own needs met is plain selfish.  And here's where we need to challenge that kind of thinking.
Challenging the Barriers
I'm not going to discuss where that thinking comes from or how we can challenge it.  If you'd like to read more about Expectations, check out an earlier post I wrote titled "Expectations".  The first step to getting a break is to recognize that you need one, to accept that your needs are important too, and to give yourself permission to have a break.  Many women with postnatal depression have anxiety about leaving their baby with someone else to care for them.  This is normal.  The best way to work through this is to start small with someone you know and trust and gradually build it up from there. The second step is to assess your current resources to see how it can be achieved.
Identify Your Resources
So many mothers truly believe they have no options.  But you have more than you think.  Let's first of all take a look at your current resources:
Make a list of all your family members that live in the same city and in particular, those that live close by to you.  Consider their available time.  Find out from those family members how often they'd be willing to take care of your little one.
Have a discussion with your partner (or your child's father or the father's family) and find out how willing and available they are to take care of baby while you have a break.
Consider your circle of friends and acquaintances.  They might be other mothers from your coffee group.  Perhaps they would be willing to do playdates or taking turns at taking the kids so that you can both get a break and mutually help one another?
Consider your financial budget.  Try to factor in some childcare costs whether that's daytime or evening babysitting.  Remember this is not a treat, this is a need.
Now that you've identified the current resources you have available to you, ask.  It is the hardest part and so many mothers are so afraid to ask for help or for a break or for their own needs that they let things go on the way they are for month after month, year after year.  But you cannot afford to do this.  Your mental health is important.  It affects you, it affects your family – your marriage/relationship and your child.  You owe it to yourself, and to your family to take care of yourself and get better.  So pluck up the courage and ask – and do it once.  What I mean by that is, ask them for a regular day and a regular time and stick it in both your diaries or on both your calendars  – so that you don't have to pluck up the courage over and over again to ask for help.  It will be too hard and you'll stop doing it.  Do it once and organize it so it's a regular thing.
More Ideas
Now here's some resources you probably didn't know about or you've never considered before:
Any family that receives any assistance from the Government (including Working for Families) is entitled to receive up to 9hrs subsidised childcare.
If you have postnatal depression you are eligible to receive a Disability Allowance through WINZ – particularly if you are on a benefit.  Part of that Allowance can include Childcare Costs.  With a supporting letter from your GP you can receive up to 50hrs subsidised childcare per week.
Consider having an Au Pair.  An Au Pair lives in with you and provides you with childcare and housework assistance.  Usually between 20 and 40hrs/week.  Costs are usually around $180/wk.  However, many young people with childcare experience on their O.E. to New Zealand are happy to provide some free childcare and housework hours in exchange for free board and accommodation.  If you have the room in your house, I highly recommend this.  Advertise for free on the Backpackers Noticeboard online!
When your baby is heading towards toddlerhood you might feel comfortable hiring a student as a babysitter.  Often students are happy to come and babysit a sleeping child while they do some study for a small amount of cash.  Advertise on Gumtree for free!
Consider attending groups that have a free or affordable creche (yes, they do exist!)
Playgroups/coffee groups are better than nothing – so long as the mums really are socializing and talking amongst themselves!
What to Do With that Precious Time
Now that you've established a way to get a break, it's really important that you use the time wisely.  Don't spend it running errands, paying bills, or getting the housework done.  This time is for you, and it's important.  Here are some ideas:
Attend counselling appointments
Go for a walk
Develop an interest/hobby: eg. scrapbooking, gym, swimming
Meet a friend for coffee (no babies!)
Go to a movie or out for a drink with a friend
Go to a class of interest, eg. learn a language, cooking class, pottery class, art class, photography class, dance class
Spoil yourself: a massage or a hair appointment or a manicure!
Have a nap (particularly if you're sleep-deprived – but don't over-indulge in sleeping – often this can be a symptom of depression and if that's your situation, it's much better if you get outside for a walk than give in to the blankets!)
And yes, mum, your needs are just as important and you do deserve it!  Talk to your partner and get his support.  Help him to see that this will help your recovery from PND.
---
June 21st, 2012 by motheradmin
Risk Factors for Postnatal Depression
Those more at-risk of developing postnatal depression have one or more of the following:
Previous Depressive episode
Relationship/marriage difficulties
Financial difficulties
Poor family support
Single mother
Young mother (ie. under the age of 22yo)
Having difficulty breastfeeding
Baby with colic/reflux or illness
Other significant stress, eg. death in the family
If you are currently pregnant, Mothers Helpers can provide you with a wide range of support to keep stress to a minimum with an aim to prevent postnatal depression.  If you've already had your baby and you have any of the risk-factors above or any of the symptoms of PND (we can test your symptoms), Mothers Helpers can provide you with support so that you can recover more quickly and more fully.
By increasing support and directly addressing the specific stress you are dealing with, together we could prevent you from experiencing postnatal depression.
What Helps Recovery?
It helps to look at your health holistically.   Many people try to treat mental illness including Postnatal Depression using one method of treatment.  The reason this is not very effective is because human beings are made up of physical, mental, emotional/psychosocial, spiritual and cultural aspects of ourselves.  These are all connected and impact on one another.  The best way of healing and recovering from mental illness is working with each of these.  Mothers Helpers does a holistic assessment and helps you to recognize where you are experiencing stress in each of these areas and gives you resources, help and support as well as goal-setting with these.
We talk about your specific situation and the specific issues you are facing.  But there are common problems that mothers with postnatal depression experience, and so here are some ideas of what will help you to recover from PND:
Physical
Regular exercise – preferably something you enjoy; even a leisurely walk will help
Good diet
Medication – not everyone needs medication, not everyone responds to medication, but most people diagnosed with postnatal depression will often find some form of medication helpful and with a combination of counselling, they're likely to recover more quickly than those who do not take medication.  We will write more on Medication in a future blog.
Some people swear by natural remedies.  This is a personal choice.  If you are interested in finding out more, see your Naturopath
Sunshine and nature – many people recovering from postnatal depression find they are especially sensitive to the sun and to nature and find it extremely beneficial.  Aim to spend a good 15 minutes in the sun every day or more if you can.  It releases good chemicals and hormones in your body (so does exercise).
Mental
Many women find that adjusting to being at home with their baby day after day is very difficult and many women find that returning to work or studying or working on a project gives them the intellectual stimulation that helps lift their mood.  It's not necessarily where all women are at, but some women find that their mental health improves when they make these changes.
Psychosocial
Emotionally, there is so much to adjust to as a mother.  Even if you are a mother for the 2nd or 3rd time, every situation is different.  You might be adjusting to juggling a 2nd child with a demanding toddler in the mix; or there might be a wide age gap between your children and it's almost like having a baby for the first time!  Whatever your situation, emotionally it has an affect on us while we are coming to terms with the changes and adjusting.
Inevitably if you have postnatal depression, you are likely suffering from significant stress in your life.  Whether it's stress in your relationship, difficulties with your baby sleeping or feeding, lack of support or something else.
More than 50% of mothers feel isolated as the latest NZ survey that came out, told us.  And it can be particularly isolating when your baby is very small.
We recommend spending time talking with a counsellor on a regular basis to process all the adjustments that are going on, alleviate the stress that you are feeling and gain support.  Research shows that mothers recover more quickly from PND when attending regular counselling and taking medication together.
We also recommend finding out your local mother's groups/coffee groups.  Mothers Helpers can help you to tap into those resources.  There are also support groups and social groups for young mums, single mums and mums with postnatal depression and a range of other supports online or otherwise for those with other difficulties eg. sick child, breastfeeding difficulties.
Getting a break:  Everyone needs a break from time to time, and that includes you.  Time to rest, time to develop an interest/hobby, time for recreation.  In our next blog post we will talk about ideas as to how you can get a break.  It's vital to recovery!
So often mothers diagnosed with postnatal depression end up on medication and that is the only change they make to their life and find that not only are they taking a long time to recover, they risk relapse.  This is because if the stress that was there at the beginning is still there 6 months/12 months later, it continues to put them at risk of depression.
The reason why the combination of counselling and medication is recommended to be the quickest road to recovery is twofold:  Medication will give you sufficient wellness to motivate you to see a counsellor, and to deal with some of the difficult topics you will need to discuss in order to get well.  Counselling will discuss some of the stress you're currently under and what has likely contributed to your depression, and ways you might find change – whether its internal or external changes that need to be made.
---
May 22nd, 2012 by motheradmin
May 20th, 2012 by motheradmin
May 18th, 2012 by motheradmin
These questions are 'borrowed' from a fantastic blog I discovered called "Beyond Postpartum" and I would recommend it to anyone interested in reading further.
In many ways this story is a long time coming.  I work in such professional circles in my job and my charity – and even in the Maternal Mental Health world I'm often quiet about my personal experiences because I am unsure whether another 'Health Professional' working in the field will judge me for having had a mental health illness.
Depression has so much of a stigma attached to it, but in my opinion, post-natal depression does especially because it doesn't just address you as a person, but you as a mother.  Depression might say to some that you are "unhinged" and "not-to-be-trusted".  The post-partum bit attached to it suggests to someone who doesn't know better that perhaps you're not safe with your own child let alone anyone else's.  I believe there is so much shame that a mother experiences when she does not live up to her ideal view of "what a mother should be" – but even more so when she suffers from post-natal depression.
Post-natal Depression is invariably suffered in silence.  A mother is often afraid to share what's really going on for her to other mothers lest she be judged, criticised, gossiped-about.  In her own mind she is not meeting up to the ideal standards she has set for herself.  Her shame forces her to wear a mask.  By the times the cracks show it's likely that things are getting pretty bad.  I am so passionate about breaking down the stigma that surrounds post-natal depression so that mothers can break the silence and remove their masks without feeling condemned or judged but understood.
This story is not only to encourage mothers to break their silence as I am doing now, but to say that all first-time mothers experience an Adjustment that can be quite traumatic and with the right stressors and risk-factors in place, could well lead to post-natal depression.  If you are struggling in your new identity as a mother, or you have struggled when you became a mother, then you are in good company.   This is a safe place where the masks can come off.  Please feel comfortable to add your comments or email your story to me.
Tell us about you- what was your adult life like prior to having a baby?
I started late having my baby – about 35 years of age.  By that time I was well-educated, had worked as a health professional and in the business world for a number of years.  I had spent my early 20's travelling around the world and experiencing what kiwis like to term "The Big O.E."  I was very independent, knew who I was and what I wanted in life.  I'd had a lot of adventures, but prior to getting married and having my baby I had settled down and picked up quite a bit of childcare work and nannying and so on, so I would have thought it would not have been so much of a shock to me when I had my baby.
I'd always wanted to be a mother.  Always wanted to be married and have a family with at least two children.  I adored children and by the time I was 35 I began to wonder if I'd have the opportunity to have a child and thought it would probably take me a long time to conceive so we "started trying " for a baby the moment we were married thinking it would take ages.  In fact, I was pregnant as soon as it was possible for me to fall pregnant after our honeymoon.
Tell us about your pregnancy…was it planned? Was it eventful or pretty standard?
On the day we arrived back from honeymoon, I was told that I was going to be made redundant and had one month to find another job.  However, in that time I discovered I was pregnant and by the time my morning sickness had subsided by 13wks pregnant, at best all I could secure at the time was a bit of casual nanny work.  This put a considerable strain on our finances.  We had used up all our savings on the wedding, and my husband was a student at the time.  Towards the end of my pregnancy he had got himself a fulltime job and given up his studies, but even then living on one-income and planning for a baby was difficult.
We were absolutely thrilled when we found out though.  I still remember my hands shaking in shock and wonder and excitement and then going out for dinner to celebrate (after doing 4 pregnancy tests because I couldn't quite believe it!)  And when I discovered he was a boy, we decided on the name "Nathan" (gift from God) as he certainly was a gift and a blessing.
Our marriage, however, was fraught with tension and conflict.  We argued about everything.  By the time I was 6mths pregnant we had separated.  By my 3rd trimester, my blood pressure was becoming high and I had a lot of fluid onboard which meant I felt very uncomfortable, and in hindsight despite the fact that I was not working a lot of the time and despite my personal education and experience and all the reading and ante-natal classes I had done, I was actually really quite anxious about what to expect.  I think part of my anxiety was due to the uncertainty of my marriage relationship and how things would be either on my own or with my husband with ongoing conflict – and knowing that I had very little support elsewhere.  Most of my family lived overseas and we were not close anyway.  The only family living in my city was my mother and father and my husband's mother and sister and I didn't know if I could go to them for support, but thought it was unlikely that I would get much help – practical or otherwise.
Stressors
You could virtually tick off everything on the list of risk-factors of post-natal depression.  I had a traumatic birth (even now I find it very difficult to retell my experience), I had difficulty breastfeeding (it took me 6 weeks of training my son to suck and weaning him off a bottle while expressing), I had a history of a depressive episode due to previous relationship trouble, I had current relationship problems, I had little family support and while my little boy was still a baby (under the age of 1yo), my mother was diagnosed with cancer.  She was treated with two types of very aggressive chemotherapy and the doctor's were not sure she would survive it.  With no other family around except for myself and my father, it was a very difficult time.  I'm pleased to report that my mother fought cancer and survived her chemotherapy treatment and is now either in remission or cured – time will tell us.
I was induced for labour and had an epidural, an allergic reaction to the epidural (severe itching) followed by large doses of Phenergan so that I slept through the remaining hours of my labour and while I dilated to 10cm the cord was wrapped around my baby's neck and he could not come down the birth canal and was getting very distressed, exposed to meconium etc. so I had an emergency c-section.  The worst part was that I did not get to hold my son for at least an hour after his birth – that was really devastating to me, and the fact that I was heavily drugged and sedated for at least 4 days meant that I didn't really have a good bond with him straight away.  Due to a tongue-tie he could not breastfeed and his glucose levels dropped and there were concerns about that following birth not to mention how much of a failure I felt for not being able to breastfeed (the tongue tie was not picked up until day 5 in hospital).  I had a suture line infection, cellulitis (infection in the tissues following the operation) and was heavily medicated for pain.  Not long after being discharged home I developed mastitis and was admitted back to hospital.  I was crying every single day particularly about not being able to breastfeed and Nathan screaming at the breast.  On the one hand I had family urging me to breastfeed.  On the other I had family wondering why I bothered and urged me to bottlefeed.  There were so many problems and so much stress, I honestly felt I had not been able to simply enjoy my son and celebrate his birth and feel the joy of a long-awaited arrival.  It took time for me to have that full sense of bonding and connection with Nathan.
You've dealt with postpartum depression. When did you first feel that something was not "right" with you?
After admitting to my midwife that I was crying every day for quite some time (particularly when breastfeeding), she told me that if I was still crying by day 7, she would suggest I see my GP.  By day 7 I still felt like crying but I forced myself to stop.  That's when I had this irrational belief that if I made myself swallow the feelings that I would be okay – that I could prevent myself from having post-natal depression.  It was an irrational thought and looking back it was partly denial, but partly the hormones that were raging at the time.
I did see the GP but I managed to convince her that I was okay and that I would try seeing a psychologist to see if that would help.  So I saw the Psychologist a few times but I was so sleep-deprived and in survival mode and had to bring Nathan with me to appointments that I couldn't clearly reflect on what was really happening for me.
Finally I saw a counsellor who convinced me to go back to the GP and tell her my symptoms.  I knew that if I went she would put me on medication, but in the end the symptoms became so unbearable that I had to go.  It was then that I admitted that I had post-natal depression.  By that time my son was 9 months old and I had separated from my husband for the second time.
What symptoms did you experience and how did you deal with them?
I was extremely low – some days I felt so bleak like there was nothing good about the day or about life or about myself.  I had very low energy to the point of exhaustion (and by 9mths my baby was sleeping through the night so it wasn't sleep-deprivation causing it).  I had anxiety so that there were days where I felt so overwhelmed that I literally believed I could not cope with caring for my son and I would phone up my husband in a panic and beg him to come home from work and he would get very upset at me and refuse – so I literally had to manage, I had no choice – there was no one to turn to for help.  I was very irritable and angry.  There were times where I would completely lose it and scream at my husband or overreact to a situation completely.  I was very sensitive and felt easily hurt by things people said and did and usually had a very angry response.  I felt like my emotions were all over the place and I couldn't control them.  With the conflict and negativity that was happening in my marriage, I had extremely low self-esteem and felt very self-loathing.  Sometimes I wanted to die but thanks to Nathan, I knew that I never would consider doing anything about those thoughts and feelings.  The little energy that I had I would pull together and use it being a good mother to Nathan.  That was really hard, but it gave me a reason to live, a reason to get help, a reason to get better and looking back, I feel so proud of my devotion to him even when I was at my very lowest.
What helped?
Time.  Those early years of a young baby are the most difficult.  Even without all the other stresses going on in my life, just being newly married, having a young baby, sleep-deprived, on one income, and adjusting to a new role and identity as a mother is enough to contend with.  Adjustment happens with time.  Adjustment to my new role as a mother, adjustment to living within the boundaries of one income, adjustment to having a baby dependent on me and sharing him with his dad.  And with time, he has become less dependent on me and sleeps for longer periods of time so that I am able to meet more of my own needs including the need for sleep!  In those early days, it feels like every day is the same and that day goes on forever and nothing is going to change.  I loved my beautiful little newborn baby but it's good to be on the other side of that!
Finding myself again.  I have very little resources when it comes to family support and childcare options, but with the little resources I had, I found ways in which I might find time away from my son so that I could see to my own needs and rediscover my identity again.  That included going back to work, using my strengths and abilities to help others and feeling good about what I achieve, attending some counselling and some personal-growth courses to work on some of the loss of self-esteem I had felt during that time.  And a bit of medication.  Once I found the right medication and the right dose of medication, within a few weeks I was starting to feel much better and more able to make the positive changes I needed to make.
Sometimes "Depression" can take away a bit of your mana.  For me, going back to work in professional roles where others respected me and where I could see I was achieving and contributing a lot helped me to gain self-respect again.
Bonding with Nathan.  It took a while to bond with him.  I am so grateful for the midwives that popped him in my bed with me for a snuggle to help him to breastfeed.  It was all that snuggling and sleeping near each other that brought the connection.  Now, even though he drains my energy, he gives me so much joy and unconditional love that sometimes just cuddling up to him or resting my hand on his head while he's sleeping is the cure to a difficult day.  I try to enjoy the special moments we have when we laugh together and cuddle together and make them as frequent as possible.
Little things.  Adequate sleep, doing something I enjoyed (coffee, a book, sitting in the sun, going for a swim or a walk, going to a movie).  Getting out and about even though many days all I wanted to do was stay at home and hide.
Who did you talk to?
It's worth noting that essentially I had post-natal depression for 9 months before I admitted it and got help so throughout that time, no one knew or understood or supported me besides the little bit of help I got from my GP or counsellor.  After seeing the GP and being formally diagnosed, I didn't tell many people I had post-natal depression.  In the beginning, the only people who knew were my husband and my mother.  As time went by, I told a few more family members.  I told only two people from coffee-group – the two that I had felt most close to.  At the same time, I also told them I had separated from my husband (I had been keeping that from people too as I just didn't want to deal with being the only single mother in my coffee group and wanted to pretend I was just like everyone else).  The two I told seemed very uncomfortable when I told them, and there was definitely an awkwardness.  They murmured "that's terrible" and that was the end of it.  I did share the news with a couple of other friends, and it was a relief to be able to be honest with them since they'd had their own experience with depression.  But overall, the response was pretty inadequate and didn't result in much understanding or practical help or a huge amount of support from those who knew of my circumstance.  I believe that most people don't understand what you are going through and don't know what to say or do that would be helpful.
What would you have liked to have had?
Health professionals being more active in getting me help and information.  Getting help sooner (going to the GP sooner and telling her my symptoms and being diagnosed earlier so that I could look at treatment). Having a counsellor that was more effective – the best thing my counsellor did was to strongly suggest I see a GP to discuss my symptoms.  Having people to talk to regularly who genuinely understood how I felt – that I could be honest and real with. Having regular practical help so that I didn't feel so overwhelmed with my role as mother and housekeeper.  And being informed of help and resources that were out there.  During my pregnancy, being a health-professional with a previous depressive episode, I knew that I was at-risk of PND but despite my requesting help and resources from my midwife, she did nothing and because I didn't know where else to go for help, inevitably I developed post-natal depression.
Perhaps I would have developed PND anyway, but I believe if I had adequate help and support from the very beginning – access to information, resources, practical support and so on – it's possible it could have been prevented, or at the very least, treated earlier on and more effectively so that it did not rob me of some of the joy of those early months with Nathan – and it may not have had such a detrimental affect on my marriage.
It's this experience that has motivated me to start Mothers Helpers.  Because I have worked in the Health and Education fields and because I have experienced this personally, I recognize the gaps that are there and what might help.  It is a personal passion that information, resources, practical and emotional support is made available to a mother who is struggling and at-risk.
 What's your story?
---
November 30th, 2011 by motheradmin