October 1st, 2015 by motheradmin
Ingrid Papau is one of our volunteers helping with childcare so that mums can focus on their 10-week Postnatal Depression Recovery Course.  Without her help, mothers would struggle to spend those few precious hours discussing their needs and their journey towards recovery.  Ingrid shares her story about why she chose to volunteer with Mothers Helpers…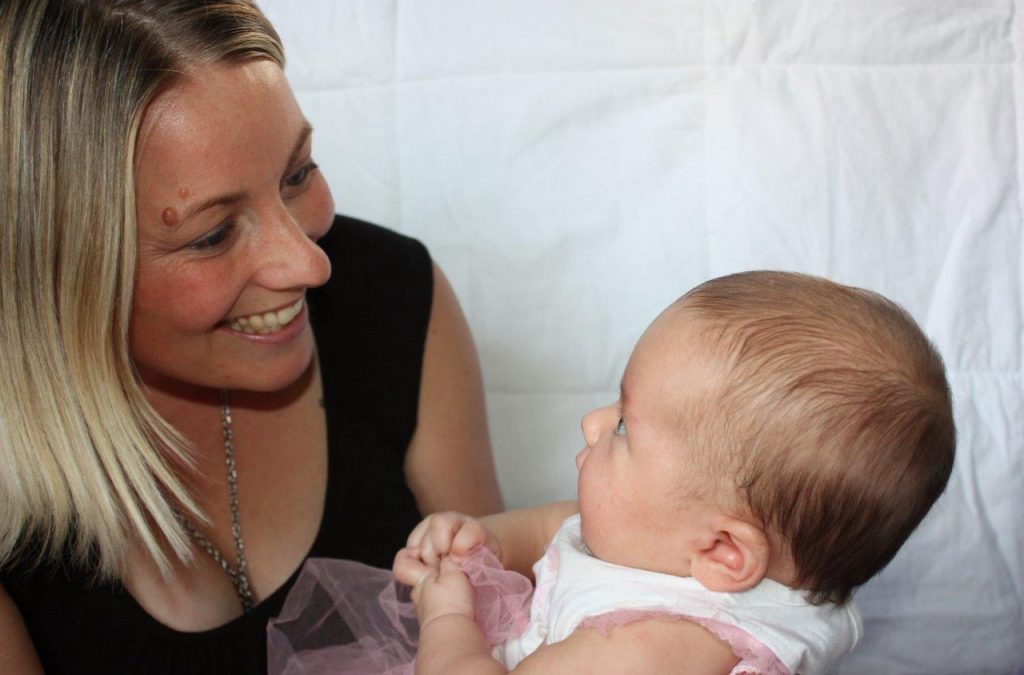 "It feels like a lifetime ago that I was attempting to talk to the receptionist at the medical centre with tears streaming down both checks, in reality it was only eight weeks ago. With gratitude in my heart I feel far removed from the post natal anxiety and depression that covered several weeks following my daughters birth. This was not a new experience for me, I had been through a severe bout of PND six years earlier after having my son. Equipped with a tool-belt of self-care and resilience skills, PND the second time round was a shallower valley to walk down, and shorter in it's duration. I wasn't completely in the clear of PND when it occurred to me I wanted to help other mums struggling with this season of their lives. I came across the website for Mothers Helpers and thought what better way to take my eyes off my own suffering, than to assist other mums.
"I enquired to see if an assistant facilitator was needed in my area. There were no openings for that role however they were in need of someone to help with childcare. As long as I could shine some light into someone's distress I wasn't worried what role I volunteered in. Having walked through what I had previously experienced I knew I could bring hope. And hope, which is that eager expectation that good is around the corner, that we will be feeling better soon, is the light that mums need. The Ten week Mothers Helpers course provides relevant course material and support, to aid mothers experiencing stress or PND. Meeting weekly I ventured out with my baby at my side to assist the mums with theirs, hoping that they can focus better on the session they're attending. I sometimes thought my being there was pointless and I felt I wasn't helping much at all. As the weeks progressed the course facilitator continued to allow me space to share my own journey with PND. When I spoke I saw hope fill other mummies eyes. Seeing other woman encouraged by the fact I was feeling so much better in my recovery brought me tremendous joy! I felt privileged to have the opportunity to hear other womens' stories and to share my own. Giving two hours of time a week was a small price to pay in comparison to the reward, fulfillment and healing I received in volunteering with Mothers Helpers."
It's Mental Health Awareness Week and this year, the theme is "Give":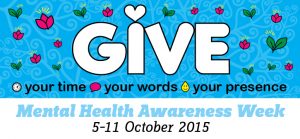 Your time – te wā ki a koe, your words – ō kupu, your presence – ko koe tonu.
The Mental Health Foundation says:  "Seeing yourself, and your happiness, linked to the wider community can be incredibly rewarding and creates connection with the people around you. It feels good to give and everybody has something to offer. How will you play your part?" 
Would You Like to Volunteer with Mothers Helpers?
---
October 1st, 2015 by motheradmin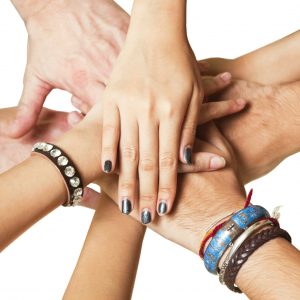 Karen Arada is a trainee counsellor working towards her registration with NZAC as a counsellor.  Karen starting working with Mothers Helpers at the beginning of the year and though she will be finishing her last Postnatal Depression Recovery group at the end of this year, she will continue to provide one-on-one counselling for some of our mothers who have finished the course.  Karen has been a wonderful member of our counselling team facilitating groups and providing support to mothers who are under considerable stress.  Karen needed a placement to complete her counselling hours to work towards registration but she talks here about why she chose Mothers Helpers and what she's got out of the experience…
"I am currently volunteering at Mothers Helpers as a group facilitator and counsellor. Mothers Helpers is an organisation which provides assistance and advice to mums who have either a diagnosis of Post-natal depression or are struggling with the many pressures of motherhood and would like to learn some tools to help manage. The organisation also tries to link mums to various other community organisations that are specific to their needs.
"It almost seemed fated that I would volunteer at Mother's Helpers as my own personal journey led me firmly to their door. While I never received a diagnosis of post natal depression, my experience with my first baby was much harder than I could have imagined. My first son was diagnosed with reflux at about four months. While this did give us a label to the behaviours that were grinding us down; the crying, the inability to sleep without hours of rocking, the surgically precise movements of settling him in his cot without him waking again. It didn't help with the feelings of inadequacy I felt over my inability to calm my own baby and the overwhelming feelings of complete incompetence at being a mother. When severe sleep deprivation was added into the mix, it seemed like a perfect storm of hopelessness. However, it did get better, slowly, very slowly! My son started to outgrow the reflux and so his, and then my sleep became better and I started to emerge out of the fog.
"I had decided to retrain to become a counsellor once I started to get a bit more of a handle on motherhood. I enrolled at university and I literally handed in my last assignment for my post graduate diploma ten days before giving birth to our second son. I decided to take a year off, expecting my experience to be much the same as when I had my first son, but it was completely different. This baby didn't have reflux and would go to sleep when he was tired! All the sleeping tips and hints that I had tried and felt that I failed miserably at with my first baby, worked every time with my second. Through this experience, I was able to realise that every single baby is different and while some might follow what the book says, some do not!
"After a year, it was time for me to think about returning to my brand new profession. I was in a position in which I didn't want full or even very much part time work but I still wanted to build my experience and start to specialise in a particular area of counselling. Mother's Helpers seemed to tick every box for me. I am able to use my training in counselling and also my experience as a mother of two very different children. While I already had one on one counselling experience, since joining Mother's Helpers, I have been able to develop my skills as a group facilitator and appreciate the healing that can emerge from the group dynamic. Most importantly it has allowed me to be part of our client's journey of motherhood and towards wellness. During each session I facilitate, I am truly inspired by the strength, determination and often sheer bloody mindedness that our mothers have, that ensures they come week after week in order to develop tools and skills to assist them through their fog. When I catch a glimpse of their fog clearing, it is the most wonderful moment which is a privilege to be part of.
"Volunteering has been a really great experience. It has allowed me to develop skills and knowledge, have flexibility in my hours which I can work around my family and most importantly be a part of making a real difference in our client's and their family's lives."
It's Mental Health Awareness Week and this year, the theme is "Give":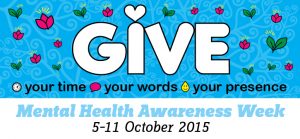 Your time – te wā ki a koe, your words – ō kupu, your presence – ko koe tonu.
The Mental Health Foundation says:  "Seeing yourself, and your happiness, linked to the wider community can be incredibly rewarding and creates connection with the people around you. It feels good to give and everybody has something to offer. How will you play your part?" 
Would You Like to Volunteer with Mothers Helpers?
---
September 30th, 2015 by motheradmin
 Leonard Ross is our 'IT Guy' and currently responsible for fixing up our website, making sure stuff works, but most importantly – he's recently developed this amazing system where we keep all our client records, assessments and data confidentially and electronically.  It has made an enormous difference to our work.  Leonard has spent literally hours and hours of his time voluntarily to help Mothers Helpers.  Why does he do it? Leonard shares his story…
"After arriving in New Zealand one of the first things that amazed me of the kiwis was their generosity and how much they cared for one another. This was evidenced by the popularity of volunteering and how many people dedicate their time to helping others. Not only did that impress me immensely but it gave me something to aspire to. After many years I am in a place where I can share some of my experience and skills with others, and volunteering is such a wonderful means to do this and give back to a country and people I love.
"I have not volunteered for long at all but being non-native kiwi I found volunteering another exciting way of aiding with my integration into society and a great way to make friends and experience new things. I would have volunteered much sooner if I knew of these benefits in helping me settle into my new environment.
"Volunteering my services made me realise that the skills and expertise I have and take for granted (as I don't use them anymore in my day job) still have a great deal of value to others. Offering these services takes little effort but can potentially make a huge difference in an organisation that can not afford to pay for these services from an external contractor or at market rates.
"The opportunity to volunteer my services is quite exciting as I am exposed to new business challenges, unknown technologies and unfamiliar situations which is always exciting for someone that loves learning and working on new problems. Not to mention the fact that this experience opened up a better understanding of a raft of social issues previously unknown to me.
"Volunteering has actually had a positive impact on my primary role too as it opens up other possibilities, perspectives and views.
"It is wonderful being surrounded by passionate people, all volunteering for their own reasons but taking pride in what they do and the difference they are making in the lives of people relying on the services offered by Mothers Helpers. I am absolutely in awe of the leadership – their passion and dedication – these qualities are contagious and a natural driver to wanting to help. Being part of a motivated team and organisation is very satisfying as the impact of my contribution is not only making a difference but I get acknowledgement and appreciation for my effort.
"The experience of being valued for my skills, my time and my views has had a truly positive impact on my being too and how I feel about myself. I will most definitely recommend volunteering to anyone."
 
My favourite things in life don't cost any money. It's really clear that the most precious resource we all have is time. – Steve Jobs
It's Mental Health Awareness Week and this year, the theme is "Give":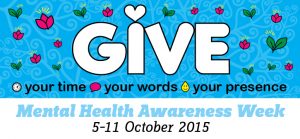 Your time – te wā ki a koe, your words – ō kupu, your presence – ko koe tonu.
The Mental Health Foundation says:  "Seeing yourself, and your happiness, linked to the wider community can be incredibly rewarding and creates connection with the people around you. It feels good to give and everybody has something to offer. How will you play your part?" 
Would You Like to Volunteer with Mothers Helpers?
---
September 12th, 2015 by motheradmin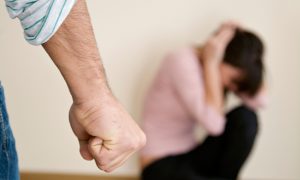 I have experienced Domestic Violence for all of my childhood and a part of my adult life.  My father was the most wonderful father you could ever imagine:  he was the warm parent – the one with cuddles and tenderness, compassion and empathy.  He would participate in my imaginary games, he spent time with me, he championed my successes and came to rescue me when I needed him.  He was also the most horrible father you could ever imagine.  With a flip of the switch he would become angry and hostile – the words that came out of his mouth to criticise me would aim for my already existing insecurities and he would repeat them over and over for years and years so I would believe them at my very core.  His physical abuse of me started at a very young age… as early as I can remember – my first memory was when I was about 5 years old.  It was slapping my face till my lip was swollen, it was smacking me with a shoe or an inch-thick stick till I had marks on my legs and body for reasons that didn't make any sense to me.  It was punching my sister in the mouth till she needed stitches.  It was terrifying.  I never knew from one moment to the next what would happen next with him – he was unpredictable.
It stopped when I was about 11 years old when my mother had the courage to finally stand up to him – in response to her stand against his "discipline" he informed her that she could then raise the children on her own and he wanted no part of it.  He closed his bedroom door (where he "worked") and I had very little to do with him after that even though we still all lived in the same house together.
The abuse returned and became worse when I was a teenager.  I was told I was a "filthy bitch" when I had my period, I was a "hussy" when I had two buttons undone on my shirt, my weight was criticised, I was a "good for nothing," I was "selfish and self-centred," I was a "horrible person," I was regularly punched and frequently shamed.  I hit back – I was angry – I was no match for him but my retaliation made me feel guilty and responsible.  My family never spoke about it – to this day, I believe we went through our own private hell of abuse and the "code of silence" meant that we never knew what went on for another person living in the same house – he seemed to do it behind closed doors in another part of the house to keep the silence.  I left home when I was 17 years old – I was so fearful at home and it was just getting worse and worse.
Inevitably, I married a man who is the kindest most beautiful soul you could ever meet… who, with a flip of the switch, becomes an incredibly angry man who will criticise me, put me down, threaten me, put fear into me.  He is unpredictable.
The first time he hurt me physically, I was 20 weeks pregnant.  Naturally, I developed antenatal anxiety and there is no doubt in my mind that my relationship with my husband had its part to play.  We reconciled after about 5 or 6 sessions of marriage counselling at the time of my baby's birth.  I was terrified of giving birth without him and raising a young baby on my own.  For the next nine months I had undiagnosed postnatal depression and I was living in an abusive relationship.  The second time he hurt me physically, my son was nine months old, I had been diagnosed with postnatal depression and given treatment, and I left him for the last time.  I did it because I was scared of him, but I also did it because I had opened a brochure from the Brainwave Trust on the effects of conflict/domestic violence on a baby's brain and development and the likelihood of his developing learning difficulties, delinquency, mental illness, addictions…  Despite my absolute fear and pain of being alone (I had no family support and no close friends I felt I could talk to), I stayed away for my baby.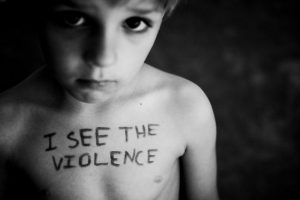 I am a smart, educated woman with a number of achievements – no one would ever guess at how I am tormented by self-doubt, loneliness, low self-esteem and a lack of resources – I hide all of these things, but these are the things that have kept me going back to him for his help, support, friendship – even though his "flip of the switch" has included death threats, punching me, threatening custody of our child, threatening to report me to CYFs, criticisms and put-downs that target my vulnerabilities and insecurities.  I am drawn in by that very nice part of him – the part that the rest of the world gets to see and believes in.
Domestic Violence can be very difficult for any of us to understand…  Why does the victim keep returning to the relationship?  Why does the perpetrator do this?  There is a very good article that I have read here – it was helpful for me to read.  I relate to the cloud of confusion that hung over my head after I left him – I felt disoriented:  "Am I doing the right thing?"  "Is this my fault?"  Truth seemed to be so hard to find – his truth sounded a lot more likely than my truth.  My family further confused the matter – my mother (naturally) felt uncomfortable talking about it and would ask me "well what did you do [to encite that response]?"  My sister-in-law refused to testify in court (obtaining a protection order) a conversation we had when I told her that my husband had threatened to kill me.  She also picked me up from the police station after my husband had punched me and I'd given a statement and took me home. The entire journey the conversation was about trivial things that were happening in her and her kids' lives while I sat profoundly traumatised.  It was crazy-making stuff.
Truth can be a very difficult thing to find for someone who is used to emotional/psychological abuse that goes along with physical abuse.  If you have never heard of the term gaslighting then it is a term I encourage you to investigate if you are at all interested in understanding the nature of abusive relationships.  The term comes from a play and film in the 30's and 40's where, in the plot, the husband convinces his wife that she is insane by manipulating small aspects of her environment.  Today, the term is used when you allow a person to define your reality.  In my case, my husband would distort reality by maximising my faults in a conflict and minimising his own.  The faults he would point out would often have truth in them which would help me to believe them.  This would result in my believing that "maybe it wasn't so bad" and "maybe it was at least partly my fault."  Being an alcoholic for most of his life, though he gave up the drinking side of it, he never gave up his skills at blaming other people and remaining a victim himself.  And he was extremely convincing as an innocent party – his temper was rarely ever shown in public and rather than charming and smarmy he came across as warm, gentle and humble.  My family loved him and found it difficult to believe me.
As the article on Domestic Violence says, my husband firmly believes that he is not responsible for his reactions to me – that I am responsible for them.  He sees things in black-and-white.  Either he is the monster that I make out that he is, or he is the nice, gentle guy – he could not possibly be both, so he rejects one.  There is no question that he is a victim of domestic violence himself, but he cannot acknowledge himself as a perpetrator.  In fact, he paints himself as a victim to me.  When I hang up the phone because he has told me to shut-up and put me down in front of my son, he accuses my boundary-setting as "controlling."  This is an example of gaslighting – attempting to warp my perspective of reality. When you are engaged with a person like this on a daily basis and you don't have a strong sense of self-esteem/self-worth, it will drag you into an abusive relationship that is difficult to get out of.
Anger Management programmes don't have a high success rate.  The longer ones have a higher success rate than the shorter ones.  This is because it takes a long time for the perpetrator to take responsibility for their behaviour and stop blaming the victim.  I also think it may be that some programmes focus on anger being the problem, but just as the Domestic Violence article above states, in fact it is less about anger management as it is about power and control.
I remember having a conversation with one male worker at a domestic violence agency, saying to him "but he's not really a controlling person" (he wasn't the classic abusive man who gets jealous or possessive, insists on controlling the money or not letting me go out)… but then the worker reminded me that I was afraid to say "no" to him, because if I ever said "no" to him – at the very least it would result in his anger/temper which I was afraid of, at the very worst, he would follow through on a threat – and that threat would be not returning my son to my care or taking me to court or to CYFs.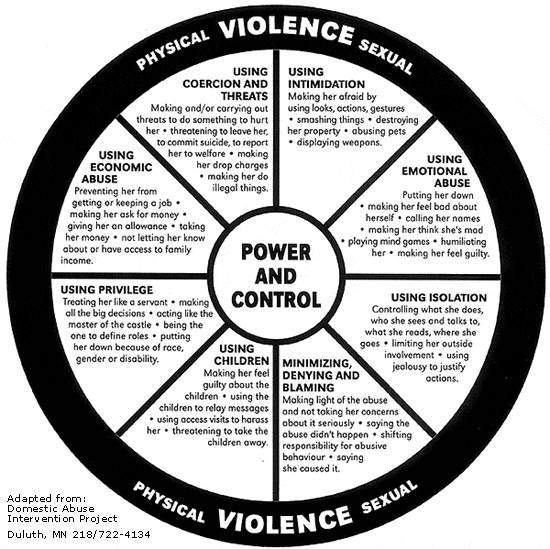 After my husband punched me, I called the police.  I had fallen to the ground and I remember moaning a gutteral sound that sounded like a wounded animal to my own ears – it felt like emotional pain as much as anything else.  I stumbled outside and I called the police and I was hyper-ventilating so much to the operator on the phone I couldn't complete a sentence:  "I can't breathe!" I told her… I was having a panic attack.  When the police arrived, they were initially sympathetic towards me (I was waiting on the side of the road for them to come) but then they went inside to speak to my husband.  I was anxious.  I knew how clever he was at being calm, collected, reasonable, warm, friendly, co-operative, intelligent…  Sure enough, the police returned and took me to the police station where I made a statement, but it was in stoney silence – they believed his story.  I was made to feel like the perpetrator.  I remember when the policeman went out the back and returned to me waiting in the waiting room, he seemed surprised at my tears that wouldn't stop streaming down my face.  I knew that whatever statement my husband had given him conflicted with what he saw then.  My statement was fairly confused and fragmented.  I was nursing a headache from the blow to my head and the stress and I was traumatised – so I agreed to questions the policeman asked me (sometimes putting words in my mouth) because I still felt partly responsible for the punches my husband had given me.  And the policeman believed that too.
The police never gave me any information for victim support or domestic violence support.  After I got home, I felt so confused, disorientated and still had a headache that I telephoned the after hours doctors – the nurse on the phone recommended I go and see the after hours doctor.  She never referred me to any social supports either.   Neither did the after hours nurse or doctor that assessed me.  I didn't have a concussion it turned out – I was just incredibly traumatised and I had no idea how to process it.  Fortunately, I accessed counselling and support from a family violence agency myself.
When I filed for a permanent protection order, my estranged husband filed for custody of our child.  It was my absolutely worst fear and sent me a very clear message:  "If you stand up to me, I will get you and make you pay – you'll be sorry…"  The affidavits that ensued included statements from himself, his sister, his friend and (what felt like the ultimate betrayal) someone who had stayed in my house.  They used every example they could think of to depict me as being both a bad person and a bad mother.  This wreaked havoc on my life-long low self-esteem and self-doubt.  I was advised well by my lawyer but I even felt her doubt me at times.
The first time I went to court, I was trembling and crying the entire journey into the city.  Once I arrived (alone) my lawyer kept asking me if I was okay.  The anxiety and fear at losing my child was overwhelming.  I sat in the courtroom with no support, unable to stop crying and shaking but trying desperately to get a hold of myself while my husband remained calm throughout the entire process.  It was only a fifteen-minute directions meeting and I was to remain silent the entire time.  When the lawyer for child stood to address the judge to say that the child's father had reported that "things had improved lately" in terms of my care of our child, despite myself I started sobbing and had to leave the room.  Throughout my pregnancy and even with my postnatal depression I had fought to do what was best for my child and care for him in absolutely the best way I knew – to be described as an unfit mother (as per the affidavits) and to hear people speak about me in this way was for me the worst blow you could ever give me.
Fortunately, my husband never won custody of my son – we now have a parenting order in place.  I don't have a permanent protection order in place but I do have signed undertakings that I can take to court to apply for a permanent protection order should I ever need to.  I now keep my distance from my ex-husband.  I don't go to him for friendship or help or support.  I am working at increasing my personal resources and social network.

I share this story to enable those who want to understand Domestic Violence better, I share it so that doctors, nurses, police, lawyers, agencies who come into contact with women who are a victim to Domestic Violence make sure that they refer that woman to Domestic Violence support services, and I share it for those women who are a victim of Domestic Violence – perhaps struggling with depression (a common symptom for those in an abusive relationship) who are thinking about getting some help – who are thinking about talking to someone about it or wanting to get out of the relationship.
Where you can go for help:
---
March 21st, 2015 by motheradmin
I have been reading a bit on attachment theory lately  – it's a fascinating topic and something I'm keen to study more in depth.  It is certainly an issue for mothers with postnatal depression to be aware of – how their anxiety may be affecting their young baby or toddler.  The good news is that it's not too late to work on your parenting so that you can provide a secure attachment for your child.
Here is an article on Anxious Attachment – what they describe as Ambivalent/Anxious Attachment if you're curious to read more.  Below are some videos explaining this and other attachment styles briefly and then also briefly explaining what secure attachment is like between parent and child.
The good news is that with psychotherapy we can work on our own attachment style and this will have a positive impact on our relationships not only with our children (which has a major impact on their world and their relationships as adults) but also with our partner.
You can read more here
---
March 21st, 2015 by motheradmin
Happy Single Parents Appreciation Day for yesterday March 21st to all those who have been or you are a single/sole parent, you have by deep admiration and respect.
Read this post we wrote on the stress single mothers experience but just want to also acknowledge the hard work of single/sole parenting of fathers – some of whom are doing it alone and without acknowledgement or support.
---
November 9th, 2014 by motheradmin
Dear Mums,
It is the last day of Postnatal Depression Awareness week for 2014.  Usually, I am out there planning an event, fundraising for the cause, creating awareness.  This year, I am taking care of my own health after a series of stressful events that has prompted me with the little reminder "Kristina, take care of yourself!"  You see, like you, I suffer with depression.  Sadly, Postnatal Depression was my second major depressive episode and for many reasons, I never fully recovered.  Like (my hero) John Kirwan says, these days my goal is not recovery but wellness and there are times I need to take special care of myself to achieve that.
Mothers Helpers has been going for 4 years now (officially) and in that time we have seen many challenges.  Those challenges have not been just the usual challenges that charities face – largely, funds restricting their ability to offer the service they're wanting to deliver or a lack of volunteers helping with that service.  In addition to those, I have had well-meaning people tell me why we could not possibly achieve what we are wanting to achieve – why mothers would not come to our groups, why we can't do what we want to do (help mums at-risk or suffering with postnatal depression) without adequate funding.  I've been told that our services are not needed because there is not as much of a gap there as we know there is.  I've had organizations refuse to refer mothers to our service because they believe there is no gap – yet, in the past, we have at times, struggled with the sheer number of mothers who have asked us for help but thankfully, now we are in a position to meet that need consistently.  I have had people say to me that they don't know why (with all these challenges, and sometimes lack of help/support of what we're trying to achieve) I don't walk away from it all, give up on what has been a hard road trying to provide a service that genuinely helps mothers despite our lack of funds and staff/volunteers or other supports or resources to deliver that service.
Most certainly, these challenges have discouraged me considerably at times, had me in tears on numerous occasions and admittedly, there have been moments I've seriously thought about throwing in the towel.  Certainly, there are people in our organization that are so instrumental to our work that it could not happen without them.  Board members Becs Ballard and Ildiko Baigent have been ongoing champions and supporters of the cause and of me personally and I'm grateful to them for standing by me, my Group Facilitators and student counsellors Tara English and Noor Hassan this past year working with groups or one-on-one with our mums, volunteers such as Denisa and (more recently) Kiri Windross helping with administration – and the various volunteers we've had over the years helping with events or helping at market stalls promoting our work.  I'm grateful to those who have sponsored a mother who has not been able to afford the cost of attending our recovery groups.  I'm grateful to those who have sponsored us by donating printing or counselling rooms or heavily discounting products and services that we need to continue our work.  I'm grateful to the organizations such as Maternal Mental Health, Plunket, other similar agencies, the General Practitioners and Midwives that refer mothers to our service because they believe in the help and support we are offering mothers.  The 50 or so "Friends of Mothers Helpers" that are behind what we do.  In addition to the continuation of the organization itself, these people have been an enormous encouragement to me that yes, there are people who believe in what we are doing and stand behind us and I am very very grateful to them for that.  And despite all of the challenges Mothers Helpers has experienced, there are two significant reasons I can't and won't walk away or give up on this despite any challenge that comes my way.  The first is because I know that there is a gap that exists for mothers with mild-moderate postnatal depression in terms of holistic help and support to aide recovery.  The second is, quite simply, you.
You are the reason why I do what I do even when I sometimes struggle with my own health/depression and have to take a small step back from it all.  You're the reason why I persist in the face of any challenge and won't give up.  When I walk into an event with a bunch of other organizations all vying for the same pot of funding and I feel completely alone because they feel competitive and that I am a threat to their charity's survival (when all I want to do is have a mutually supportive relationship), I remain in that event for you.  When I am the only voice championing this cause to doctors, to midwives, to hospital staff, to birth educators, to agencies, to the Government or the wider community – I am doing it because of you.
You are my motivation because I see and hear your stories of pain and struggle – fighting to be a good mother to the children that you love and wanting to do your very best, but held back by the ongoing battle with depression.  And I have been in that battle – I know what it's like – I know the courage it takes for you to face each and every day with your own challenges.  I know the battle that is in your mind, the constant negative thoughts that berate you while you're trying to do the best you can, the emotions that overwhelm you, the energy that you lack and the desire to stay in bed yet forcing yourself forward into the day for the sake of your kids.  I know the guilt that plagues you, the feelings of despair, anger, resentment and the longing to be free from this terrible illness that robs you from all of the joyful experiences you wanted in your pregnancy, in childbirth, in those early days of mothering.  You are my heroes – the sheer strength and determination you show in the face of your day-to-day challenges motivates me to overcome the challenges I face in providing this service for you.  I want to fight to provide the kind of support that can prevent Postnatal Depression for mothers who are at-risk of it, and I know that with the right kind of support, that is possible.  I want to fight to provide an holistic service that helps mothers to recover from Postnatal Depression so that you can be well and free from the battle that now plagues you so that you can fully enjoy your experience of motherhood, and so that  together we can prevent the consequences of Postnatal Depression in your life such as poor attachment between mother and child, depression becoming severe, hospitalization, breakdown in relationships/marriage and yes, even suicide…  My reward is witnessing your recovery when I see mothers soaking up the information we're offering and motivated with that newfound information to make changes in their life bit by bit.  The reward is seeing you well and enjoying life again.
To all mothers with Postnatal Depression, I applaud you.  I applaud your strength, your courage in this battle.  I have deep admiration for you.  It is not your fault that this is your experience and yet too often you face these challenges without the understanding or support from those around you  – sometimes, you even experience stigma and judgment or hide your private battle in fear that you will.  I want to tell you that you are not alone.  You are my friends and my sisters in this battle.  Mothers Helpers is here because of you – because we believe you can win this battle and we'd like to help you to do it – like to support you on that journey, because we understand what that battle is like and know how hard it is.  I want you to have hope – I want you to know that you don't have to do this alone, and I want you to know that with help, you can recover – you can be well again.
Kristina Paterson
Founder of Mothers Helpers
How Can You Help to Support this Cause?
Tell others about Mothers Helpers – share this and other articles on your social network pages
If you are a GP, midwife, agency, friend, family member – refer mothers at-risk or suffering with postnatal depression  to our service so we can offer help to them
Volunteer – we have plenty of opportunities for people to help with whatever time they have available
If you would like to gift a mother with Postnatal Depression a beautiful "candle of hope" you can do that by donating $6 to us on "Give a Little"
---
October 27th, 2014 by motheradmin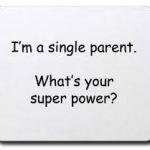 In a recent survey conducted by Mothers Helpers online via social media, we asked 100 single mums in New Zealand a series of questions which they responded to anonymously so that we could better understand the challenges that they face.
Clearing Up the Stigma
Contrary to what can be portrayed by media of single mothers, the majority of those that responded to the survey had separated from a committed relationship where they were living together or married and there was only one father in the picture.  Here are the statistics:  74% had one or more children to one father, and 23% had more than one child to two biological fathers.  The remaining 3% had more than two fathers in the picture.  50% of mothers had been in a defacto relationship with the father and 35% were married prior to separating while just 14% said they'd never had a relationship with the father.
In a separate recent survey (again of single mothers with 100 respondents), single mothers gave their reason for leaving the relationship.  85% of the women surveyed were the ones to leave the relationship but the vast majority left for the safety and wellbeing of themselves or their children:  19% left because of physical abuse, 47% left because of psychological abuse (defined as threatening to harm, frequent shouting/name-calling or put downs or damaging property), 8% said they left due to his drug/alcohol abuse, 28% left because he cheated on them, 38% left because of frequent arguing.  Three respondents described situations where they or the children were sexually abused.  Just 26% left because they fell out of love, 6% left because they found someone else.
The majority of women surveyed were either working, preparing to work or looking for work.  59% either worked full time or part-time.   37% of respondents were on a sole purposes benefit and 4% were on another kind of benefit, however 18% of those were studying, 48% said they chose to be on a benefit so that they could be at home with their young children while 34% said they were looking for work  but could not find work that paid more than the benefit, and 34% said they were looking for work but could not find a job.  15% said they have not looked for work due to illness or disability.
The Experiences of Parents on the Benefit
51% of single mums on a benefit experienced disrespectful treatment from the staff at WINZ at some point with 39/51 saying it happened sometimes and the remainder saying they experienced it most or all of the time.  40% of single mums on a benefit received criticism from friends or family for being on a benefit and 38% said they felt ashamed for being on a benefit – 31% sometimes hid being on a benefit from others while 21% hid it most of the time and 4% hid it all of the time because of that shame.
In a previous blog post "Mums on the DPB" we have presented some mothers' more specific experiences.
Stress Experienced by Single Mothers
In addition to those mothers on a benefit experiencing disrespectful treatment from WINZ staff, criticism from friends or family, shame for being on a benefit to the point that they hid it from others, the vast majority of single mothers had the lion share of the day-to-day care of the children with 39% not seeing their father at all, 29% seeing their father once a month or less, 30% seeing their father once a fortnight and a mere 22% in a shared care arrangement*
62% of single mothers agreed that they found the grief/loss of the relationship somewhat, very or extremely difficult while 17% described it as slightly difficult.
87% of single mothers said that they found loneliness somewhat, very or extremely difficult.  Just 8% found it slightly difficult.
89% of single mothers said that they did not get enough of a break from their children and they found this somewhat, very or extremely difficult while 7% said they found it slightly difficult.
71% of single mothers said they found financial hardship very difficult or extremely difficult with 22% saying it's somewhat difficult – a mere 3% found financial hardship to be slightly difficult and 4% reporting they did not have an issue.
66% of single mothers found it at least somewhat difficult that friends/family chose sides following the separation from their ex.
50% of single mothers did not find the reduced time with their kids to be an issue but 23% found it very difficult or extremely difficult.
60% of single mothers found parenting responsibilities on their own very difficult or extremely difficult and another 16% described it as somewhat difficult.
The vast majority of single mothers found conflict with the ex to be a source of stress with 33% describing it as extremely difficult, 20% describing it as very difficult, 19% describing it as somewhat difficult and 13% as slightly difficult – bearing in mind that conflict with an ex-partner is likely to be more difficult at the beginning and it fluctuates which might influence answers.  It is likely that at some point it is a significant source of stress for single mothers.
Just 28% of mothers found that their childrens' emotions regarding separation were not an issue.  18% described it as extremely difficult, 20% described it as very difficult, 19% described it as somewhat difficult and 15% as slightly difficult.
While 51% reported that legal battles were not an issue (presumably were not involved in any legal process regarding care or protection), the remaining 49% of respondents had obviously had this experience and most (41 out of the 49%) described it as somewhat, very or extremely difficult.
8% of single mothers had no family support while 23% had just a little and 40% said they were stressed most of the time and 8% that they were stressed all of the time.
In Summary
It isn't any wonder that single mothers are at-risk of developing postnatal depression when you consider the amount of stress that they are going through in terms of grief and loss of their relationship, the loneliness they experience, the loss of friends/family who have chosen sides, dealing with the grief of their children, recovering from the trauma of an abusive relationship (47% described psychological abuse and 19% physical abuse, 8% described alcohol/drug abuse and a few described sexual abuse of them or the children).  In addition to that they have the practical implications of parenting alone and how that affects them mentally in terms of financial hardship and not getting enough of a break from the kids – particularly since most of them had the lion share of the day-to-day care of their children.  In addition to this stress, is the ongoing conflict with their ex – 49% going through the court process which can be extremely stressful.
Despite all of these challenges, single mothers invariably remain committed to raising their children in a loving and positive environment – 59% working to provide financially for their children, 34% of beneficiaries looking for work and 48% choosing to be on a benefit at great financial sacrifice to be at home for their young children (the remainder unable to work due to disability/illness).  We should be applauding these single mothers for the commitment they show to their children and continuing to fight for the wellbeing of their family despite all of the incredibly stressful challenges they face.  This has to be the most significantly difficult time of their life  – so why is it that there are still WINZ staff that think it's ok to treat these women with disrespect?  Why is it that after losing their significant other, they now find themselves losing some of their friends or family that have "chosen the other side"?  Why is it that they experience criticism for being on a benefit from friends, family – from the media, from the Government when their reasons for being on one is due to an inability to find work or driven by their belief that their children need them at home?  And why is it that in 2014 (not 1954) more than half of these single mothers find they struggle under the stigma of the label of 'solo mum'?
At the beginning of this article, Mothers Helpers shared the statistics that oppose the stereotype that has been given to single mothers and single mothers on the benefit.  These statistics show that single mothers are predominantly working, committed to working or choosing to be at home with their young children for the sake of their kids.  They show that mums had mostly left committed relationships with one father of their child/ren for the sake of their own or their childrens' safety or wellbeing.  Even so, Mothers Helpers wishes all single mothers to know that whatever their circumstance – whether working, studying or staying at home with their children; whether there is one or more than one father in the picture or whatever your reasons for leaving the relationship – we acknowledge that being a single mother is stressful and you deserve support rather than judgment from society.  From our perspective, you have both our admiration and our support.  
For all single parents but in particular those who do not have sufficient family support or you feel like you are stressed most of the time,  please request help, we are here to support you.  You do not have to do it all on your own.
Mothers Helpers is conducting an online survey for single fathers so we can understand their stress better.  If you are a single father and you'd like to participate in this survey, you can do so at the link HERE
* Please note that in some instances there was more than one father in the picture which is why percentages do not tally to 100% when added together.
---
October 1st, 2014 by motheradmin
We know that you can't just "snap out of" depression – it is a healing process just like any other illness.  But when you're feeling those blue days when you need to do something to lift your mood, how about downloading these songs on your ipod/mp3 player and sitting out with the sunshine on your face and your bare feet on the grass looking up at those big puffy clouds in that beautiful blue sky?
1.  Things Will Get Better – American Authors
2.  We Can Work It Out – Stevie Wonder
3.  Ain't It Fun – Paramore
4.  Touch the Sky – Kanye West
5.  Good Time – Owl City
6.  Get Up Offa Thing – James Brown
7.  Yo Hello Hooray (Everyday) – Ubiquitous Synergy Seeker
8.  On Top of the World – Imagine Dragons
9.  Hey Ya! – Outkast
10.  What I Like About You – The Romantics
11.  Happy – Pharrell Williams
12.  Love on Top – Beyonce
13.  Mr Blue Sky – ELO
14.  Ho Hey – The Lumineers
15.  Xanadu – Olivia Newton John
16.  Home – Phillip Phillips
http://www.youtube.com/results?search_query=home+phillip+phillips+official+music+video
17.  Crazy – Gnarls Barkley
18.  Just Dance – Lady Gaga
19.  I Smile – Kirk Franklin
20.  Beautiful Day – U2
21.  Best Day of My Life – American Authors
What are your favourites that lift your mood?
---
September 18th, 2014 by motheradmin
WARNING:  This post contains generalisations and conclusions based on my own observations and analysis/opinion.  I recognise that there are always exceptions and that not all families/experiences are the same.
The Results of Womens' Liberation
Don't get me wrong, I am tremendously grateful for Women's Liberation and the Feminist movement and the achievements they have made towards gender equality.  One of the biggest accomplishments was giving women the opportunity to work – and not only to work, but to work in any field they were interested in pursuing.  Womens' liberation opened up possibilities from the expectation  that women would make one choice – and that was to get married, take responsibility for raising children and stay at home with them, taking care of the housework and her husband, to now having many career choices.  Experts in health have suspected that there were a large number of women who found that limited choice had an effect on their mental health resulting in undiagnosed postnatal depression.  So I'm grateful for progress and the ongoing work towards equal opportunities for women in vocational leadership positions and pay parity between genders.  What I think has happened, though is that in addition to working in (often) demanding roles and high-stress jobs, they still maintain the role of main/primary caregiver to their children and take the lion share of responsibility for their childrens' daily needs.  Instead of couples now sharing the financial provision for the household and sharing the raising of the children, women have now added a job/career to her role as housewife and child-carer.  In addition to her job, she is the one who still makes the kids' lunches, takes note of the clothing/shoes that are wearing out and need more of, arranges extra-curricular activities, assists with homework, arranges plunket appointments, doctors' appointments, dental appointments, haircut appointments, kindy visits…. the list goes on.
The Supermum Generation
My father retired early while my mother continued to teach fulltime.  Even then, he did not help with domestic chores or taking care of the children.  This was still her role and she was expected to come home from work, cook us our dinner and attend to virtually all the domestic chores.  Now, men will usually help occasionally with preparing dinner or a few domestic chores.  Also, some men are now taking parental leave so that they can stay at home with their new baby.  Some men have opted to be a stay-at-home dad while mum works because he's more suited to it or because she earns more.  But I think more often than not, women are still working (in demanding jobs) and doing the lion share of child raising day-to-day responsibilities and domestic chores.  Worse still if she is not working and "because he is", she takes on all of the responsibilities for the children and domestic chores.  Why is this worse?  Because taking care of children is not a 9-5 job with breaks.  It is a 24hr job, 7 days a week with no time off.  It is rewarding and often wonderful – but it is also relentless and draining, exhausting work.  Occasionally I hear comments along the lines of "what a wonderful man" or "what a wonderful father" when a man contributes to the same degree that a woman does towards domestic chores and engagement with/responsibility for his children.  That is because it is still expected of a woman, but not expected of a man and when it does occur, it is out-of-the-ordinary.
There is increased pressure on women today (I believe) than ever before.  We refer to these women as "supermum" and applaud her ability to keep all the balls in the air.  For those of us who continue to drop the ball, we feel like a failure for doing so instead of recognising that in fact the expectation on us is too much.  It's unrealistic.  It's unfair.
What Needs to Change
The expectation that mothers do not share parenting responsibilities and domestic chores equally needs to change.  In terms of "Womens' Liberation" it is one aspect that has lagged in terms of change and equality for women.  Society still expects it – applauding "supermums" – and men still expect it from us.  It is up to us as mothers to change that expectation.  It starts with our own expectation of ourselves.  Too often, the mothers I work with who have Postnatal Depression have the expectation that they should be able to "do it all" and feel a considerable amount of guilt and failure when they are unable to do it.  It's imperative that we take a step back and change our thinking and expectations on ourselves.  We need to start with a conversation with our partner and re-negotiate so that parenting and domestic responsibilities are more equally shared – not just for the sake of equality, but for the sake of our mental health.  And we need to raise boys who understand that when they become an adult and a parent, that they do not expect the "male privilege" of unequal parenting or domestic responsibilities simply because they are a man.
---