June 21st, 2016 by motheradmin
Last night, as I was drifting off to sleep, I was thinking about National Volunteer week and the volunteers past and present that have and do contribute to the work of Mothers Helpers.  It warms my heart to think of every single person that has contributed in some way.  There is something about a Mothers Helpers volunteer.  Every single person that has volunteered for Mothers Helpers in any capacity has had one thing in common:  they are really good, kind and giving people.  I love spending time with them, I love working with them – they're probably the people I feel most akin to.  Each one of us is motivated to sacrifice our own time to ease another person's suffering.  I admire and respect people like that.  They're the kind of people I want to hang out with.  I liken our volunteers' contribution to the work of Mothers Helpers to that of a single patch in a large quilt.  Every piece of fabric is woven together to create something larger that provides warmth and comfort.  Every piece is valuable and every piece is needed to provide a unique and vibrant pattern.
It is with this metaphor in mind that I have decided to create a quilt with each volunteer that has contributed to our work representing a patch as a reminder of what we have created and continue to create together.  Each patch will be chosen and named for the volunteer that has worked with us, and will be remembered for the work that they have done to help New Zealand mothers and families.
Volunteering makes you feel good.  It brings out the very best of ourselves.  It unites us with other good people.  It contributes something good to our community.  It makes the world a better place.  Thank you to every single one of the volunteers that have contributed to the work of Mothers Helpers since its inception five years ago.
If you would like to volunteer with Mothers Helpers in any capacity, please Contact Us
Kristina Paterson, Founder
---
June 2nd, 2016 by motheradmin
********TRIGGER WARNING *********
I have a heavy heart today.  A woman I got to know amongst our Mothers Helpers forum had an accident recently – it is suspected suicide.  She is currently on life support and is not expected to make it.  A little over a year ago, I had many conversations with her, pleading for her to get some help.  She was very resistant to the idea of medication and refused to believe that she needed medication to get better.  Many women feel like this who struggle with depression.  I was resistant to getting help myself for many months.  Depression creeps up on you and often you don't realise just how bad it is getting because things have not been great for a while.  When depression is mild, research tells us it is possible to "beat it" with diet and exercise and therapy.  This requires a great deal of effort, though, and there are a couple of symptoms about depression that work against you:  low motivation, low energy, and difficulty problem-solving.  It will also take longer to recover, and the longer it takes you to recover, the more of an impact it has on you and your family.
Medication
I'm not saying that medication is for everyone, but the facts show fairly clearly that once your depression has become moderate and certainly when it's become severe, your brain is not functioning the way it ought to be – and that needs to be corrected just like there are times when your body has an infection and it can't fight it by itself and needs the help of some antibiotics.  It's not very different.  Neither am I saying that medication is a "cure all."  The reason Mothers Helpers offers a 10 week Postnatal Depression Recovery Course with two one-on-one sessions either side of it is because we recognise and research tells us that treating depression must be holistic to be successful.
When depression gets worse, our ability to problem-solve and make rational decisions reduces quite considerably.  If you suffer from depression, this is the reason why you need to ask for help.  From my own experience, once depression reaches a certain point it is impossible to get out of that hole without help.
This lovely mother was at the point where it was difficult to reason with her.  Her depression was such that she regularly thought of suicide.  I tried to say to her "you're refusing medication at what cost?  This might cost you your family, you are likely to get more and more unwell, it might even cost you your life!"  She wouldn't listen.  It was so hard to watch things deteriorate for her.  A year ago today I learned that she had been admitted to hospital against her will for psychosis – which is the risk we take when our depression goes untreated for so long and gets worse and worse.  Today I learned of her (suspected) suicide attempt.
The news is tragic and heartbreaking – especially for her family and young children.  I am so sorry that I wasn't able to get through to her – that she didn't get treatment earlier.
Appeal for Change:  The Need for Early Intervention
Mothers Helpers is lobbying government and approaching health services so that we can provide early intervention to mothers before they get severely depressed and hopefully prevent depression from occurring in the first place.  My hope is that we will be able to prevent tragedies like this – that we'll be able to save the lives of these women by providing them with help and support to recover.  And that we'll reduce the impact depression has on their families who suffer too.
Get Help
If you are struggling with depression/anxiety, please, I urge you to get some help.  Mothers Helpers is available to provide you with that help, information and support.  In one of our first sessions in our course we talk about medication so that you can make an informed decision.
Take care of yourself – by taking care of yourself, you are taking care of your family too.
If this story has affected you and you would like to talk to someone immediately, contact:
Lifeline 0800 543 354
If you would like to speak to Mothers Helpers about getting help for your depression, call us on 0800 002 717 or fill in the Request Help form
---
May 7th, 2016 by motheradmin
by Mothers Helpers Founder Kristina Paterson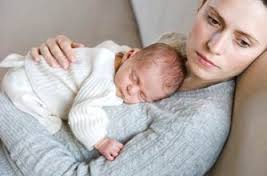 It took me 18 months to go and get some help for the way that I was feeling.  9 of those months I was anxious throughout my pregnancy but the midwife didn't pick up on it.  In the first week after my baby was born, I had a new midwife, and she said to me that if I was still crying by day 7 (hours of crying every day), then I'd have to go and see the doctor as I may have postnatal depression.  So I forced myself to stop crying.  I didn't want to have postnatal depression.  And I didn't want to have postnatal depression for the next 9 months that I avoided seeking help.  I did go and see a counsellor, but it had little impact on me.  I knew that if I went to the doctor, he would diagnose me and offer me medication that I didn't want to take.  This inability to be rational and problem-solve clearly as well as denial of the full extent of the problem is very common for mothers who experience antenatal or postnatal depression.  It's even harder if this is your first baby and you have nothing to compare your experience to.  I left it till things were really, really bad before I got help.  By that time my energy was so low that I could barely manage to get myself off the couch, I had to summon all of it just to attend to my baby's needs, the entire 12 hours or more of caring for my baby on my own while my husband was at work overwhelmed me.
When I finally went to the GP, I of course was offered medication, which I accepted.  And I felt better within a few weeks.  I didn't know at the time that medication was not a miracle cure – that within 12 months, the medication would stop working simply because I had not made any changes to my life.  I didn't know that recovery from depression required an holistic approach.  I didn't know because nobody told me and there was nothing out there that helped me to understand recovery from depression more fully or to help me make those changes.
The consequences of depression that was not diagnosed and not treated for such a long time was devastating for me.  I developed chronic (life-long) depression.  Most of the time I am well, but it means that I have to take medication and commit to holistically caring for myself in order that I stay well.  Antenatal and Postnatal Depression was definitely a contributing cause of my marriage breaking down and subsequent separation.  Tragically, it is likely to be a contributing factor of my 6 year old son's development of an anxiety disorder – the impact of which we are still wrestling with on a daily basis.  I can almost bear my own suffering in this whole story, but watching my son suffer is really unbearable.  Every family has their challenges, but the challenges I have faced are preventable, and I want to prevent this suffering from happening to you and your family.
I don't write this to frighten you.  The last thing I want to do is cause you more anxiety.  I write this because I want so much for you to get help for your depression and anxiety.  It is crucial not only to your own wellbeing, but to the wellbeing of your family.  Please go to the GP.  Please consider treatment.  Please find out more about how you can recover holistically from antenatal/postnatal depression and anxiety.  Mothers Helpers runs courses throughout Auckland and an online course that is available to anyone in the country.  These courses have proven to help the majority of mothers to recover from PND, and all of them their condition has improved.
---
December 12th, 2015 by motheradmin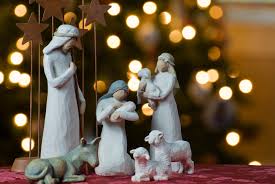 Christmas can be a tough time for people for all kinds of reasons.  If that's your situation, then you wouldn't be the first person to discover that there is "no room at the inn" – a certain Saviour had a rocky start to life on Christmas morning with a cattle trough as a bed and his mother had to place her very pregnant self upon a donkey and travel for miles with no midwife attending to her!  Whether it's just that financially you can't afford to indulge this year or whether it's that you are spending Christmas alone, it might comfort you to know that there are options available to you where you can spend time celebrating with good people.  Here are some options for Christmas Day you might like to consider:
All Areas
Contact your local Salvation Army or your local churches to find out whether they are providing a free lunch to the community (they often are in locations right across the country), eg. Whangarei Salvation Army
Other free community Christmas meals to people of all ages:
Auckland
Christmas Day Lunch with Auckland Single Parents Trust
"Christmas Leftovers" Grey Lynn RSA
East Auckland Salvation Army Dinner
Auckland Hikers Meetup Group:  BBQ and Short Hike
Roturua
Tauranga
Tauranga Free Christmas Dinner at St Peters Church on Spring Street
Whanganui/Palmerston North Area
Marton Community Christmas Dinner
Wellington
All Day Christmas Party on the Beach
Nelson
Richmond Community Christmas Dinner
Mayor's Christmas Dinner for Senior Citizens
You could also get into the spirit of Christmas and volunteer at a Christmas Dinner for those in poverty or give to families in need
If you know of a free Christmas event happening on Christmas Day 2015 that you'd like to share with us, please contact us and we will add to our list! 🙂
---
November 5th, 2015 by motheradmin
Challenges
The two main challenges I have faced as a solo mother (once the shock and grief and initial adjustment period had subsided) have been inadequate support and financial struggles.  I have family but I have very little family support.  Even when they moved back to the same city in which I lived, they never offered to take care of my son, never asked me if I needed anything – they waited for me to ask.  And on the occasions I asked, sometimes they would say no.  Consequently, my family have taken care of my son who is now at school three times – each time it was for a few hours at the most and once was when he was asleep.  I don't think it has ever dawned on them that it might be a struggle for me or that I might need support.  Perhaps they thought that since my son's dad was actively involved or because I only had one child, then it was no big deal.  But the first few years of my son's life, his dad never had him overnight and he only came to visit him – he didn't take sole responsibility for him for years.  And even when he started to take care of him, I still had to manage work or studies – and this was hard to juggle when you are the person with majority custody, managing on your own.
I am lucky, though.  For many solo parents they do not have any family support and there is no second parent in the picture.  I have met those parents and they never get a break.  I can't even imagine.  For the most part, I do feel blessed to have my son's father co-parenting with me (childcare-wise), but I still feel on the brink of tears when I come across a situation and I have literally no one to help me and I am at a loss and don't know what to do.  It is usually a practical need that requires some DIY skills that I do not possess and I don't have the money for.  It's times like that I feel helpless and I feel despair and I feel tired of the fight.
Financially, it is a huge struggle.  The struggle isn't the inability to afford new clothes (my son wears second-hand clothing often sizes too small for him because he is growing so fast and my clothing allowance is once a year absolute essentials if I'm given a voucher for Christmas), it isn't that I can't afford to go to movies or restaurants, or even that I have to save all year to afford birthday and Christmas presents for my son.  No, the struggle is when I am unable to afford a registration on my car, and the local policeman stops me and slaps a $200 fine that I have to pay off in addition to paying for my registration.  The struggle is when something on my car needs urgent repairs in order for it to be safe and I have to go and make an application to WINZ and then find I am now paying them back a weekly amount for their loan.  The struggle is when the neighbours call the SPCA because they see that my dog doesn't have a kennel and suddenly I urgently have to pay for one out of my son's birthday money or else face her being taken away from us and my son's heart being broken.  The struggle is not having childcare available that is OSCAR-approved in the area I live in, and therefore – next to no options for after school care that would enable me to work/study and no one else to call on.  The struggle is the nagging thought of "how am I going to pay for this…?" that constantly plays in the back of my mind – worry, worry, worry for our basic needs, for how we're going to manage, for how I am going to be able to continue to pursue a better life for us.
What Would Help?
It would help if a solo mother didn't have to carry a stigma around with her that comes with the label.  It would help if people didn't instantly judge me as someone who is "lesser than" because I don't live with my son's father.  It would help if the community I lived in thought of ways in which they could support me or give me a hand instead of adding stress to my already stressed life – how they might be flexible or helpful.  Practical help is something I need desperately – I don't ask because I'm too proud – I don't want to be seen as a helpless victim.  I want to be seen as someone who is strong and capable.  But when I need help, I want to know it's there, I just have to state my need and there will be people willing to help.  Instead of neighbours who refuse to help jumpstart my car when my battery is flat or feed my cat when I am away.
There are people who have stepped forward and offered their help to me.  Ironically, they have all been solo parents themselves.  Perhaps it's because they know how hard it can be?  I am half way through my degree and once I've finished I will be seeking full-time work.  My encouragement to anyone reading this is to consider the solo parents in your world and think about how you can find ways in which to support them.  Something very simple like "if ever you need to go urgently to an appointment and you need someone to take care of your children for an hour, just call me, and if I can, I will" or – "if ever you want to do some babysitting swaps and take turns so you can get a break – I'm keen!"  or – "I notice you've got some leaks from your roof, mind if I take a look?"  Don't underestimate just how much that will mean.
---
October 22nd, 2015 by motheradmin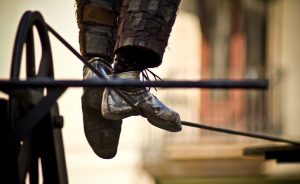 It would be fair to say that for some mothers who have developed perinatal depression/anxiety, the "temperament" that researchers speak of that make some mothers more prone to developing it than others is not only that we're naturally a sensitive soul, but we can also place high unrealistic expectations on ourselves – setting ourselves up to fail and becoming disappointed with ourselves time and time again.   Whether you are recovering from your first episode of perinatal depression or you are challenged with the ongoing management of chronic depression, dealing with those unrealistic expectations is vital to our wellbeing.
As a person who now manages chronic depression (quite likely as a result of delayed diagnosis and treatment of my antenatal and postnatal depression), I certainly have these characteristics as part of my temperament and learning to deal with those high expectations is something that will be a life-long challenge for me.
In those days, dealing with a newborn baby – I expected that I would bond and absolutely fall in-love with my baby… I was blindsided (and later grieved the loss) by my traumatic birth and the hospital's negligence by significantly delaying the opportunity for me to hold my baby post-birth, the breastfeeding problems I experienced and how I was at high risk of developing postnatal depression.  I expected that I would be able to breastfeed well.  I expected that I would find things a lot easier than I did.  I expected that I would be able to cope with everything, despite a strained (and failing) marriage and insufficient support and my mother going into hospital for chemo the same year my baby was born and my marriage dissolving.  I didn't know where to go for help, but I also expected that I should be able to manage this all on my own without help and I felt that I was failing because I wasn't coping and it was hard to admit it.
These days, I am well and high-functioning and very often I forget that lurking in the background is a mental illness that I will have for the rest of my life.  I still don't want to have it.  I would still like to ignore it and pretend it didn't exist.  I still have these high expectations of myself to achieve this or to meet demands as if I do not have a mental illness that I have to be mindful of.  And then the old "black dog" lingers on the edge of my yard (ironically I have an actual black dog but she's rather nice and cuddly and has a habit of licking me rather than biting me although she is a puppy and still chews a lot of my son's toys which is really annoying.)
It's not about being a victim and letting depression define you – living under the banner of "I can't" – it's about being realistic and above all, it's about being kind to ourselves.  I have chronic depression.  The unrealistic expectations I have of myself to be super-human is ridiculous.
If you want help for the stress or depression/anxiety you are experiencing, please fill in this online form
~ Kristina Paterson (Founder of Mothers Helpers)
---
October 4th, 2015 by motheradmin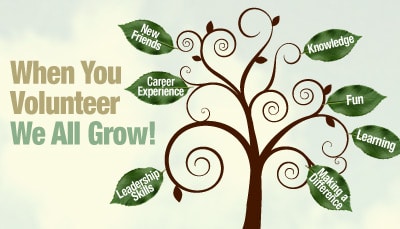 Valued member of our Management Committee, Karyn Churcher tells us why she is involved with Mothers Helpers:"
When I heard about Mothers Helpers, I liked the way they give practical help to many mothers that are struggling. Having suffered with PND myself, been a single parent and supported woman and families, through fostering and teaching, I thought this would be something I could use my experiences to benefit other women and families, focusing on early intervention rather than at the bottom of the hill that some of my years of fostering had been.  I am learning from and working with some passionate people.  They have a very different skill set from me so it is a learning curve.  It is great to be involved with passionate caring people who are doing this for the good of others, no financial gain just a belief that they can make a difference."
Kiri Windross is our General Administrator for Mothers Helpers.  She's worn a number of hats since she has started with us including that of Auckland Area Manager, and we honestly could not have been able to do as much as we've been able to do without her.  She has also filled a need whenever she can – whether that's been relieving a volunteer offering childcare or whether it's sponsoring a mother so she can attend our PND Recovery course.  We are so grateful to have her as part of our team.  Kiri shares what motivates her…
"I chose to volunteer with Mothers Helpers because I know there is not enough government support for this debilitating illness, and it is an illness that can have a huge impact not only on mums, but on children, fathers and the family unit in general.  I also feel passionate about the fact that being supported by people who understand what you are going through makes the journey of depression less lonely.  I remember feeling when I was going through depression, that I would not wish the experience upon my worst enemy.  That seems a strong statement, but it expresses the desperation I felt at the time.  To know that my efforts may help to reduce the impact or severity on other people's lives and this make every minute of volunteering worthwhile.  There is a big difference between receiving help from someone who actually cares, as opposed to receiving help from someone who is being paid to help you.  It feels really good to know you are making a difference."
Judy Moore has recently joined the Mothers Helpers team as a Recruitment Manager.  With a background in Human Resources in the health industry, we are very fortunate to have her volunteer her time to help us.  Judy shares here why she has chosen to do that…
"The world today is very busy and demanding place for us all, but especially parents in general.  Families are often separated and neighbours do not know one another so when times get tough for mothers/parents there is often  a lack of available support or a lack of understanding of how to help.  Mothers Helpers is there to do exactly what it says in its title ie help and support mothers during times when they need help and guidance.  It is a cause I truly believe in – family is the heart of our nation. I think volunteering should be part of an individuals commitment to society.  For a community/society to prosper we need volunteers and to be a well rounded citizen I believe we need to give back to our community through volunteering." 
It's Mental Health Awareness Week and this year, the theme is "Give":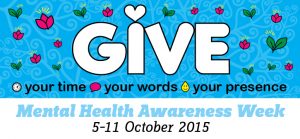 Your time – te wā ki a koe, your words – ō kupu, your presence – ko koe tonu.
The Mental Health Foundation says:  "Seeing yourself, and your happiness, linked to the wider community can be incredibly rewarding and creates connection with the people around you. It feels good to give and everybody has something to offer. How will you play your part?" 
Would You Like to Volunteer with Mothers Helpers?
---
October 4th, 2015 by motheradmin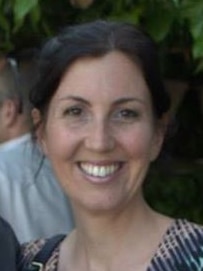 We are so fortunate to have Bridget Baker on the Management Committee of Mothers Helpers.  Like the rest of us, she brings her own personal experience of Postnatal Depression but she also has an amazing background in Communications that has helped Mothers Helpers significantly.  Her time, her commitment and dedication to the role is so appreciated and so valuable.  It's wonderful to have her as part of our team.
After experiencing PND and witnessing first-hand the gaps in the current health system, I was passionate about giving back to the community to help other mums avoid or minimise the type of experience that I had. The Mothers Helpers recovery course was recommended to me. Having just completed the 10 week course, which was amazing!, I knew that this organisation had the right services and information for other mums out there to fill that gap that existed. At that time Mothers Helpers had put out a call for volunteers so I jumped at the opportunity.
I feel very fortunate to be a part of this organisation. I have gained so much from volunteering for Mothers Helpers such as –giving me a greater sense of purpose that I'm helping make a difference in our community; focusing on others and not just myself has helped with my depression; I have been able to apply my professional skills to the organisations needs; I've learned a lot from my colleagues in the organisation; and I have also made some new friends.
I would highly recommend others to  volunteer for Mothers Helpers. The organisation is run by a collection of incredibly intelligent, passionate and caring people. Every person is totally dedicated to helping mums and their families recover from (or avoid) PND.  It's a wonderfully supportive environment and I have learnt a lot from my colleagues. Plus it is amazing to be a part of something that is truly making a difference in people's lives.
It's Mental Health Awareness Week and this year, the theme is "Give":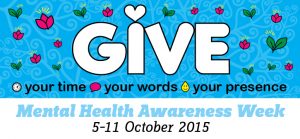 Your time – te wā ki a koe, your words – ō kupu, your presence – ko koe tonu.
The Mental Health Foundation says:  "Seeing yourself, and your happiness, linked to the wider community can be incredibly rewarding and creates connection with the people around you. It feels good to give and everybody has something to offer. How will you play your part?" 
Would You Like to Volunteer with Mothers Helpers?
---
October 2nd, 2015 by motheradmin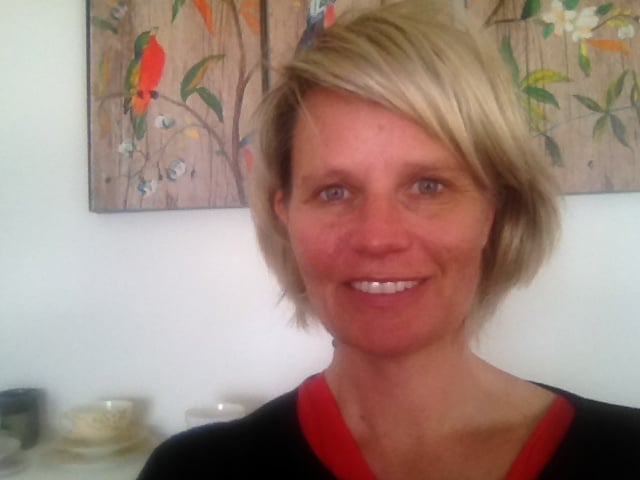 Annabelle Caesar volunteers to take care of mothers' babies so that they can attend the PND Recovery course in St Heliers.  Without her efforts, these mothers could not spend time focusing on their recovery for a few hours each week.  Annabelle tells us why she volunteers…
I am a mother of 3 children aged 9, 11 and 13. I have worked in paid employment part time on and off since becoming a mother, however in October last year the contract I was working on came to its completion and we decided I should stay at home while our two eldest children started new schools.
For some time I had wanted to give back to the community so I looked online and found Mothers Helpers which appealed to me after having 3 children myself.
I registered to help and one day received an email from Kiri asking if I could look after the children while mothers attended a course at St Heliers Bay Community Centre on a Wednesday morning. This suited me so I sifted through our youngest son's room, found the old Thomas the Tank Engine train set and took off for St Heliers.
I looked after 3 twenty month olds and a 2 two year old. Its amazing how quickly you forget the business of little people. They are quick on their stumbling feet and have the most amazingly inquisitive minds. Over the course of 10 weeks the children and I become great buddies. The satisfaction of giving something back to the community was fantastic, I was rewarded by cuddles and lots of laughs with the children. It was also great watching the mums grow and blossom in each others company.
I would recommend volunteering to anyone who has the time and wants to give a little back.
It's Mental Health Awareness Week and this year, the theme is "Give":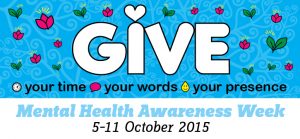 Your time – te wā ki a koe, your words – ō kupu, your presence – ko koe tonu.
The Mental Health Foundation says:  "Seeing yourself, and your happiness, linked to the wider community can be incredibly rewarding and creates connection with the people around you. It feels good to give and everybody has something to offer. How will you play your part?" 
Would You Like to Volunteer with Mothers Helpers?
---
October 2nd, 2015 by motheradmin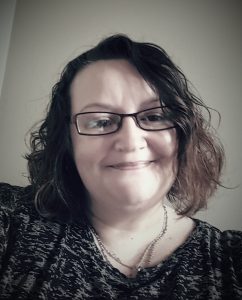 Paula Neshausen volunteered with Mothers Helpers after several years of being on the Board of Perinatal Mental Health New Zealand and volunteering with helping mothers in Gisborne struggling with Postnatal Depression.  Her passion has her volunteering up to 20hrs/week while juggling study, a small business and a family and her own small "zoo" of much-loved fur babies!  She brings a ton of management skills with her, her knowledge in the clinical psychology field plus personal experience – we are so very lucky to have her. Paula is currently transitioning into the role of Service Co-ordinator, taking over from founder Kristina Paterson in the new year.  Paula talks about why she's chosen to volunteer with Mothers Helpers…
 ˜
"Hi!  I'm Paula, partner to Jason, and Mama to Alissa (aged 9), Aliyah (aged 8) and Dwight (aged 6) and full time Step Mama to Zaden (aged 12).  I am very honoured to be the General Manager of Mothers Helpers.  Despite the nifty title I am a Volunteer and proud of it!  Maternal Mental Health is something I am intensely passionate about after having my own very long and painful Maternal Mental Health journey.  After my youngest was born I suffered Post-Partum Psychosis, and basically lost two years.  I was, for the most part catatonic, and what memories I do have of that time are forced, basically I took lots of photos and notes to go with those photos, and once you look at them long enough and read the notes enough, your mind kind of tricks itself in to believing they are memories of the actual event.  During that time I also had multiple rounds of Electroconvulsive Therapy (ECT) better known as Electric Shock Treatment, which was one of the most harrowing experiences of my life.
"I have been well for just on 5 years now, I still suffer from anxiety from time to time, especially in group situations and of all places – the Supermarket!  I am acutely aware of my mental health these days, and it is something I will need to be mindful of for the rest of my life.  But I have the support of a wonderful partner and some amazing friends.  The reason I Volunteer is that if I can help just one person to not have to experience what I went through, the
way you are treated and isolated even further, and help them see that it really is a journey you can come out the other side of, then that would be amazing beyond words.
˜
"Another motivator for volunteering with Mothers Helpers is to be a voice, a very loud one, and try and get Perinatal Distress and Depression talked about, rather than whispered about.  The stigma of my experience still to this day follows me, some Doctors will read in my medical records what happened and sadly the majority of time they will make their mind up that there is nothing medically wrong with me, and that it is all in my head.  I had a Doctor refuse to treat me for what was obviously a serious medical issue until a Psychiatric Evaluation was completed.  Not only is that humiliating it is just wrong.  We need to stop the stigmatism and educate people about PND and Maternal Mental Health.
 ˜
"I feel very honoured to be part of Mothers Helpers, and whilst my role is voluntary, it is something that I give my all to, because I do not believe there should be a "just" in volunteering – there is no such thing as "just" a volunteer."
˜
It's Mental Health Awareness Week and this year, the theme is "Give":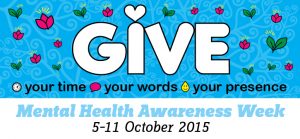 Your time – te wā ki a koe, your words – ō kupu, your presence – ko koe tonu.
The Mental Health Foundation says:  "Seeing yourself, and your happiness, linked to the wider community can be incredibly rewarding and creates connection with the people around you. It feels good to give and everybody has something to offer. How will you play your part?" 
Would You Like to Volunteer with Mothers Helpers?
---